Letter from Africa: Giving Kenyans a voice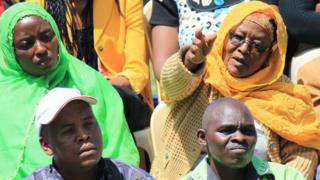 In our series of letters from African journalists, Joseph Warungu, the presenter of a BBC debate programme on governance in Kenya that is ending, reflects on what he has learned in nearly three years travelling around the country.
When I clipped on my lapel microphone, plugged in my earpiece and turned to the camera this week, I said hello and goodbye for the last time to more than four million Kenyans who have followed this radio and TV programme or used it each week to hold their leaders to account.
The aftermath of the 2007 election was traumatic for my country.
People were felled by bullets and machetes because the ballot exercise failed us miserably.
Neighbour turned against neighbour, and in the words of former UN Secretary-General Kofi Annan "we nearly lost Kenya".
The BBC Sema Kenya programme was born out of a desire to prevent a repeat of 2007 in the next election of 2013.
"Sema" is Kiswahili for speak and the show has been a platform to defuse tension and focus on development, by letting Kenyans speak out.
Healing wounds
Since its launch in 2012, Sema Kenya has travelled to a different part of the country each week, bringing people face to face with local and national leaders and using the national language Kiswahili.
As the show's moderator I have learned a number of things about my nation.
It became quickly apparent that the wounds of 2007 were yet to fully heal.
I recall one woman who was displaced by the violence, which also claimed her brother's life, expressing the pain of being unable to visit his grave because of security concerns.
In the same programme in the town of Nakuru I learnt something else: The desire for reconciliation remains strong among Kenyans.
A woman from a rival community sitting close to the displaced person told her: "I'll go with you to visit your brother's grave."
It was a touching moment.
Everyone went quiet and then exploded into applause.
My third observation was that many Kenyan leaders are still invisible to their electorate.
You see them when they need your vote, and then you never see them again until the next election.
Scrutiny and arrogance
There was a powerful moment in the town of Naivasha, when one woman told her local member of parliament to his face: "I've never seen you before. I'm glad I came to this programme, because I've now met you!"
The embarrassed MP shifted uneasily in his chair as he gave his excuses.
I also observed another thing: That in a country where many value higher education as a means of escaping unemployment, there is one corner of Kenya that has a disproportionate share of professors.
In the western town of Siaya, local people debated with their leaders about the paradox of poor standards of school education in a region full of learned people.
I picked up the local joke that if you threw a stone randomly in the air in Siaya, there was a high probability it would land on a professor.
Sema Kenya has taught me something else.
That old habits die hard.
Although people have a constitutional right to question their leaders, those in power do not usually welcome the scrutiny and they sometimes display the arrogance of the past.
In the town of Narok, the county governor was under fire for questionable management of the lucrative local wildlife park and resorted to intimidation.
Halfway through the programme, he turned to me and asked rather threateningly, "Hey you, what's your name again?"
We had to stop the programme at one point as his helicopter hovered noisily above the debate location, as if ready to airlift him should the people persist in their questioning.
In some areas the local governors appeared too frightened to face their voters and skipped the debate at the last minute.
Fierce rows
And Sema Kenya taught me a bitter lesson as a presenter: Be prepared - always.
Kenya does not have a great record on maternal health.
According to World Bank figures, the country loses over 300 mothers for every 100,000 live births.
So a recent debate to tackle the issue of maternal health took me by surprise when two senior doctors with opposing views, suddenly set aside their professional demeanour and engaged in one of the fiercest rows I've witnessed as a journalist.
It was almost impossible to calm them down.
During our travels I also noticed how 51 years after independence there are still many Kenyans marginalised by poverty with no voice.
When we reached Turkana, one of the poorest and most remote parts of Kenya close to the border with South Sudan, it was the first time the people had had a chance to speak openly with their leaders on national television.
Yet this region contains huge deposits of oil and underground water, which the government says could supply the country for 70 years.
We have inspired other local governance shows, and with the training and mentoring the BBC has provided, the local partner, Kenya Broadcasting Corporation (KBC), is now ready to take over Sema Kenya.
So as I hand over my microphone and earpiece to the KBC presenter, I have one final lesson to share with him.
Listen and let Kenya speak.