Kidnapped CAR minister Armel Sayo freed by gunmen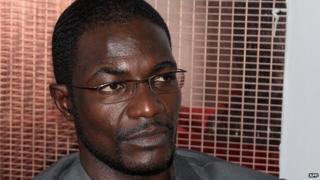 A Central African Republic (CAR) government minister has been freed by gunmen who kidnapped him last month.
Family members confirmed on Wednesday that Armel Mingatoloum Sayo had been freed overnight, but the circumstances of his release remained unclear.
Mr Sayo was pulled from his car in January by gunmen believed to be linked to the country's anti-balaka militia.
The anti-balaka is a mainly Christian militia that formed to oppose the Muslim-led Seleka rebel group.
Mr Sayo's abduction was one of a number in CAR in January - a UN employee and a French aid worker were taken hostage at about the same time. Both were also later released.
The anti-balaka fighters deny involvement in Mr Sayo's abduction.
Mr Sayo's family were in contact with the kidnappers while he was being held but the government denied that a ransom had been paid.
"We have done it with discretion," Nicaise Samedi Karnou, CAR's minister for public security, told the BBC.
"We did not want to do it with the media hype. But I can assure you it's the government that has made this possible. Not a franc has been given for the release of the minister, not a single franc."
Lawless
CAR descended into sectarian violence in December 2013 when the anti-balaka militia attempted to overthrow a government led by the Muslim Seleka rebels from the country's north.
A UN-backed transitional government was put in place in April 2014 and is due to stage elections in 2015, but large parts of the country remain lawless.
UN troops arrested Mr Nagibona, known as General Andjilo, earlier this month.
He was wanted for alleged murder and rape in connection with attacks on minority Muslims in December 2013, and also faces charges of rebellion and looting.
The conflict in CAR has killed thousands of people and displaced about one million.
The UN currently has about 8,700 troops there and plans to bolster its presence in the country to 10,000 by April.