Nigeria elections: Goodluck Jonathan denies role in poll delay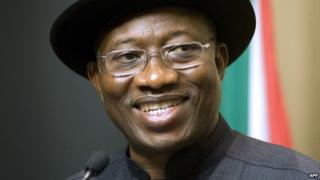 Nigeria's President Goodluck Jonathan has denied he was consulted over the postponement of Saturday's presidential and parliamentary elections.
Election officials took the decision on the advice of security officers concerned about the Islamist-led insurgency in the north-east, he said.
The six-week delay was not a "big deal", he said on national television.
The opposition claims Mr Jonathan pushed for the polls to be delayed because he feared defeat.
The elections have been rescheduled for 28 March.
Analysts say the election is the most closely contested since military rule ended in 1999.
---
Does a candidate's religion matter?
---
Mr Jonathan and his People's Democratic Party (PDP) are facing a strong challenge from ex-military ruler Muhammadu Buhari and the All Progressives Congress (APC).
Elections for state governors and assemblies slated for 28 February have been moved to 11 April.
'Going for broke'
Mr Jonathan said he would "happily" give up the presidency if he lost.
The "international community" sometimes saw the postponement of elections in African states as an attempt by the incumbent to cling to power, he said.
"This is not the case in Nigeria," Mr Jonathan added, giving an assurance that the government elected on 28 March would be sworn in by 29 May in accordance with the constitution.
The US, UK and Canada have expressed concern about the postponement of the polls in Africa's most populous state and main oil producer.
On Tuesday, Nigeria's former President Olusegun Obasanjo added his voice to the concerns, telling London's Financial Times newspaper that he hoped Mr Jonathan was "not going for broke and saying: 'Either I have it or nobody has it'.
"I hope that we will not have a coup...  I hope we can avoid it," Mr Obasanjo said.
Mr Jonathan said the Independent National Election Commission acted within the constitution when it postponed the polls.
Difficulties in distributing voter cards and security concerns were legitimate reasons for the delay, he said.
"I was not consulted and I don't want to be consulted," Mr Jonathan added.
Mr Jonathan is contesting his second presidential election. His presidency has been marred by powerful PDP members defecting to the newly formed APC, fuelling speculation that he could be defeated in the election.
He has also been strongly criticised for failing to curb the insurgency in the north-east by militant Islamist group Boko Haram.
Thousands of people have died as a result of the conflict over the past six years, while more than three million people have been forced from their homes.
The militants control a large stretch of land in north-eastern Nigeria and have stepped up attacks on neighbouring countries.
---
Goodluck Jonathan
Muhammadu Buhari
Security
Promises to do "everything humanly possible" to combat Boko Haram. Seeks greater regional and international cooperation to tackle the insurgency, terrorism, piracy and organised crime.
Says the government has been ineffective and lacks the willpower to fight Boko Haram. Pledges to end the insurgency within months if elected.
Economy
Says he will continue with his economic blueprint known as the "2011-2015 Transformation agenda". Views economic diversification as a key step towards addressing the fall in global oil prices.
Says government's economic policies have worsened the lives of Nigerians. Promises to pick "competent hands" to run the economy. Pledges to tackle poverty by closing the wealth gap through shared economic growth.
Corruption
Says "we are fighting corruption. It is not by publicly jailing people. Yes, we believe in suppressing corruption, but our emphasis is in prevention."
Says one of his key priorities is to wipe out corruption. "If Nigeria doesn't kill corruption, corruption will kill Nigeria".
Employment
Promises to create 2 million jobs each year. Launched YouWIN scheme for young entrepreneurs and Sure-P initiative aimed at helping graduates find jobs.
Promises to create 20,000 jobs per state, totalling 720,000. Pledges support for the agricultural sector and soft loans for small manufacturers to boost job creation.
Infrastructure
Credits his administration with reviving the railway system and improving road infrastructure.
Pledges to complete stalled road projects and improve infrastructural development nationwide, especially in the north-east.
Energy
Says government's privatization of the power generation and distribution companies will ensure regular power supplies in the future.
Favours exploration of non-oil sector. Says economic diversification key to addressing falling global oil prices.