DR Congo sets election date after protests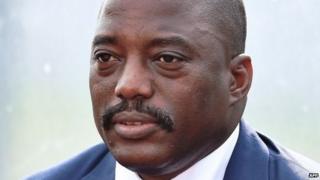 The Democratic Republic of Congo will hold presidential elections in November 2016, satisfying a key demand of the opposition.
Election officials announced the date after violent protests erupted last month over fears that President Joseph Kabila was trying to delay polls.
The government denied the claim, and dropped plans for a controversial census to be held before elections.
Mr Kabila is constitutionally barred from contesting the poll.
He took power in 2001 after his father Laurent Kabila was assassinated.
He has won two disputed elections since then, and cannot stand for a third elected term.
Both the presidential and parliamentary elections would take place on 27 November 2016, election commission official Jean-Pierre Kalamba said in the capital, Kinshasa.
At least 42 people died in the protests in Kinshasa and other cities last month.
The demonstrators wanted to block parliament from adopting a new electoral law which would have required that a national census be held before elections.
The opposition said the plan amounted to a "constitutional coup" by Mr Kabila, as it would have taken about three years for a census to be conducted in DR Congo, which is two-thirds of the size of western Europe, has very little infrastructure and is hit by instability in the east.
Inside DR Congo
The Democratic Republic of Congo covers 2,344,858 square km of land in the centre of Africa, making it the 12th largest country in the world.
Eastern DR Congo is awash with a variety of different rebel groups – some have come from neighbouring countries, while others have formed as self-defence groups. Many are taking advantage of the lack of a strong state to seize control of the area's mineral riches.
DR Congo has abundant mineral wealth. It has more than 70% of the world's coltan, used to make vital components of mobile phones, 30% of the planet's diamond reserves and vast deposits of cobalt, copper and bauxite. This wealth however has attracted looters and fuelled the country's civil war.
Despite the country's size, transport infrastructure is very poor. Of 153,497km of roads, only 2,794km are paved. There are around 4,000 km of railways but much is narrow-gauge track and in poor condition. Waterways are vital to transport goods but journeys can take months to complete. Overcrowded boats frequently capsize, while DR Congo has more plane crashes than any other country.
With an estimated population of 71 million, DR Congo is the fourth most populous country in Africa. Some 35% of the population live in cities and the capital Kinshasa is by far the largest, with more than 8 million inhabitants. DR Congo has around 200 ethnic identities with the majority of people belonging to the Kongo, Luba and Mongo groups.
Given its size and resources DR Congo should be a prosperous country, but years of war, corruption and economic mismanagement have left it desperately poor. In 2011 it lags far behind in many key development indicators, with average life expectancy increasing by only 2 years since 1980, after a period when it actually fell during the mid 1990s.