Sierra Leone audit claims Ebola funds unaccounted for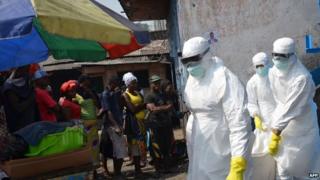 An audit in Sierra Leone has revealed that 30% of internal Ebola funds have not been properly accounted for.
According to an official report published on Friday, money was paid from various emergency accounts with no proper documentation such as receipts.
The auditors said that 25bn leones (£3.7m; $5.7m) worth of spending did not have supporting documentation.
Almost 23,000 people have been infected by the Ebola outbreak in west Africa since March 2014.
The audit report was published as Sierra Leone suffered a new setback on Friday with 700 houses in its coastal Aberdeen region quarantined, according to AFP news agency.
'Misappropriation of funds'
Sierra Leone's national audit service said the health ministry had showed "complete disregard" for the law in its disbursement of emergency funds.
The 25bn leones not properly accounted for amounted to 33% of the 84bn leones paid out by the health ministry between the beginning of the outbreak in Sierra Leone in May 2014, and 31 October 2014.
Of that 25bn leones, 14bn was completely unaccounted for and 11bn partially accounted for, according to the report.
The "lapses" in the financial management of the funds resulted in a loss of quality in the treatment of the disease, the report states.
The report does not cover funds from international organisations like the United Nations. It only examines funds from the government and from private donors in Sierra Leone.
The audit team also said the health ministry failed to produce documentation for contract agreements for the purchase of 50 vehicles and ambulances, and pointed out large gaps in the serial numbers listed for frontline healthworkers as "possible misappropriation" of hazard payments.
A review of hazard payments at the Connaught Hospital revealed that soldiers and police officers were included on the list of eligible health workers, despite hazard funds being transferred to both forces separately.
The audit service has submitted the report to parliament for action.
Local journalist Umaru Fofanu told the BBC's Focus on Africa programme that the government has not responded to the report but there has been an angry reaction from the public.
A report published in the British Medical Journal last week said that just 40% of the £2.9bn pledged by international donors had reached affected countries, possibly prolonging the outbreak.
Almost 23,000 people have been infected with Ebola since its outbreak in Guinea in December 2013, with more than 9,000 of those dying from the disease.
US President Barack Obama announced on Thursday that all but 100 of the US soldiers remaining in the Liberia would leave by the end of April.
There were 2,800 US troops in West Africa at the height of the epidemic, but about 1,500 have already left the region.