Why Jacob Zuma's South Africa land policy is smoke screen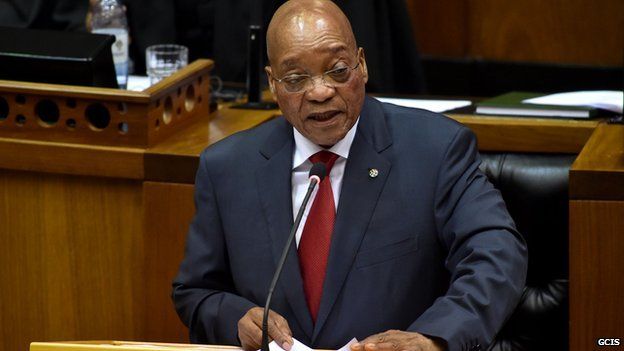 President Jacob Zuma's proposed land policy to ban foreigners from owning land in South Africa is a symbolic gesture to appease the radical left.
The obvious reason why the bill is a public relations exercise by an embattled president is simply because vast tracts of land are not owned by foreigners. The owners are largely white farmers, who are South African citizens.
The president is under increasing pressure to explain what he meant when he told parliament last week that foreigners would be banned from owning land - a move that sent shockwaves through the property market.
Some members of his administration have come out to "clarify" his statement and play down its impact.
One of Mr Zuma's senior advisers, Mac Maharaj, said that people should "stop panicking".
Andrew Golding, head of Pam Golding Property Group, told me that "the total combined sales of land and houses per annum to foreign buyers constitutes about 1% in number and 2% in value".
This shows that South Africa's land problem will not be resolved through Mr Zuma's land bill as proposed in the raucous parliamentary meeting last week.
On the front page of the presidency website, it states: "The practice of limiting land ownership by foreign nationals is an established practice internationally."
It continues: "Not all immigrants to South Africa will be excluded from land ownership."
This is clearly damage control because in essence the governing African National Congress (ANC) is trying hard to attract a disgruntled constituency, like the one led by Julius Malema, a former party youth leader who was expelled after falling out with Mr Zuma.
Mr Malema's Economic Freedom Fighters (EFF) wants to expropriate land (as well as mines and banks) without compensation.
This is exactly what Mr Malema was advocating even when he was still with the ANC Youth League.
Although the ANC was overwhelmingly re-elected last year, the EFF, fighting its first election, gained a creditable 25 seats, based on its radical manifesto.
Apart from trying to court left-wing voters, there is another, more legitimate, reason why President Zuma feels compelled to make such announcements in his second term.
Twenty years after the end of white rule, land ownership is still skewed along apartheid lines.
The white minority owns most of the country's best land because of the Land Act of 1913.
At the stroke of a pen, black people were dispossessed of their farms - they were left with just 13% of the land.
However, if you think that South Africa will descend into a Zimbabwe style of chaotic land grabs, you will be making a huge mistake.
South Africa is not Zimbabwe.
President Zuma can be accused of many things, including corruption and ineptitude, but he is no Robert Mugabe.
The president and the ANC insist that land distribution has to take place under the framework of the law.
Another real estate expert Samuel Seef said: "The reason for wanting to restrict ownership, and who this is meant to benefit, is rather difficult to gauge."
President Zuma's proposed Land Holdings Bill is only restricted to agricultural land, not residential properties.
It seeks to restrict locals from owning more than 12,000 hectares per person - roughly equivalent to two farms.
However, South Africa is becoming an increasingly urban society.
Most of the people I have spoken to - both in South Africa's rich suburbs and townships - say they are not looking to become farmers.
They want decent homes, jobs and good education for their children.
Related Internet Links
The BBC is not responsible for the content of external sites.