Tanzania: Kidnapping of albino boy raises witchcraft fears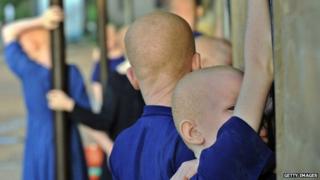 An albino toddler has been kidnapped in northern Tanzania, raising fears that he may be killed by witchdoctors.
Police say one-year-old Yohana Bahati was taken by attackers who broke in to his mother's house, striking her with a machete.
The body parts of albino people, who lack pigment in their skin, are sought after by witchdoctors in Tanzania.
The country banned witchdoctors in December in an attempt to prevent attacks and kidnappings.
The boy's father, who was nearby during the attack, is being questioned, regional police chief Joseph Konyo told AFP news agency.
The men who carried out the abduction are still on the loose. "We have asked the public for co-operation to arrest the suspects," Mr Konyo said.
High price
More than 70 albinos have been murdered in the east African country since 2000, according to the United Nations.
A 2006 report by BMC Public Health said albinism affects one Tanzanian in 1,400 - around 33,000 people - a far higher rate than in the West, where it affects just one in 20,000.
The higher rate is thought to be due to inbreeding.
Witchdoctors are prepared to pay high prices for albinos, according to the Red Cross. Police officers in Dar es Salaam told the charity that a complete set of albino body parts can fetch $75,000 (£50,000).
In December, Tanzanian police offered a reward for information leading to the recovery of a missing albino girl feared to have been kidnapped for her body parts.
Police made 15 arrests over the disappearance of Pendo Emmanuelle Nundi, aged four, including her father, but she remains missing.
Last August, the UN said that attacks on albinos were on the rise ahead of elections in Tanzania later this year, with politicians turning to witchdoctors to improve their luck.
UN rights experts also warned that attempts to protect albino children have led to them being segregated.