Ebola World Debate: Who runs a country in crisis?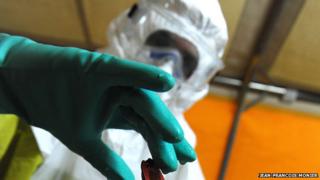 The 2014 Ebola outbreak in West Africa was the worst since the disease was identified in 1976. As case numbers seem to be on the decline, we ask on a special BBC World Debate - what has been the impact and consequences of Ebola in West Africa.
What do the people of West Africa need now, from their own governments and from the international community? Who is in charge and who really runs a country when it's in crisis?
BBC presenter Zeinab Badawi will be joined in Accra, Ghana by a high-level panel of decision-makers from the world of politics, business, civil society and the international community - along with some special front row guests - you.
The BBC wants you to be a part of this event. We want your questions on what you think are the key issues facing West Africa in the wake of the Ebola virus - whether it's on governance, the involvement of the international community or the role of the private sector.
If you would you like to be a part of the live broadcast recording on the evening of Wednesday 25 March in Accra, Ghana fill out the form below or email us and we will select audience members from your responses.
Please tell us in 100 words why you want to take part, and please leave a telephone number. Tickets are limited and you must be in Accra or able to get yourself there in order to attend the debate.
If you do not want to attend, you can also leave a general comment via the form or email below.
The event has now closed. But we would like to say thank you for all of your response it was nice to see some of you in our audience.