Mali signs UN ceasefire to end conflict with northern rebels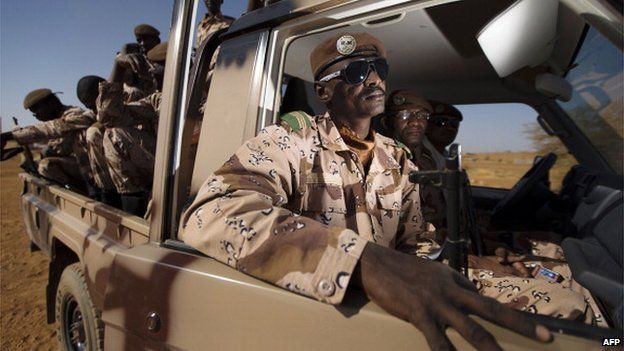 The Malian government has signed a ceasefire deal with rebels in a bid to end long-running unrest in the country's north.
As part of a UN-sponsored peace process, both sides agreed to an "immediate cessation" of hostilities.
The deal was signed during talks that began in Algeria on Monday.
French and African troops intervened in Mali in January 2013 to stop the southern advance of al-Qaeda-linked fighters on the capital, Bamako.
They were eventually expelled from towns across the north, but both nomadic Tuareg rebels and other Islamist militant groups have remained active.
The deal signed on Thursday was agreed between the Malian government and an alliance of six armed groups.
According to the terms of the truce, both sides agreed to "tackle the causes of lasting tensions in the region", the AFP news agency reported.
Rebels are seeking more autonomy for the north, a region they call Azawad.
Mali's leaders have rejected autonomy but say they are willing to consider devolved local powers.
Analysis: Alex Duval Smith; BBC News, Bamako
The agreement to cease hostilities was the last chance to save the Algiers talks. It came after the United Nations security council threatened Arab and Tuareg rebels and pro-government militias with sanctions.
The talks in Algiers, already in their fifth round, have lost meaning amid intensifying fighting in the past few months. Forty UN peacekeepers have lost their lives in northern Mali - most of them since the talks began in July 2014.
The test of the truce will be whether it is respected on the ground even though none of the fighting parties have been disarmed.