South Africa Harmony Gold mine fire to be probed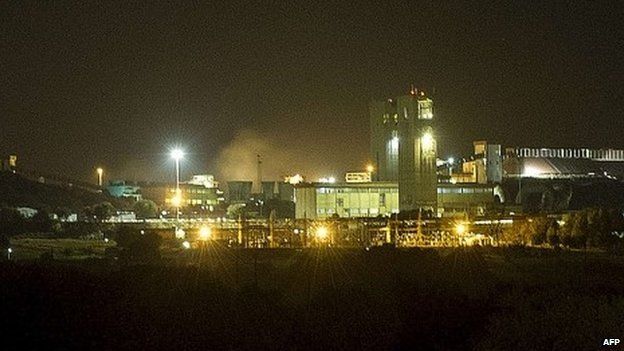 A leading gold mining firm in South Africa says an investigation will be launched into the cause of fire which left 486 workers trapped underground at its mine north-west of Johannesburg.
Rescuers brought all workers to safety after 11 hours by Sunday evening, Harmony Gold said in the statement.
South Africa's President Jacob Zuma expressed shock at the incident.
South Africa's powerful mining sector is under government and union pressure to improve safety for workers.
Harmony Gold CEO Graham Briggs said the fire at the Kusasalethu mine was "believed to have started during maintenance work on a bulk air cooler".
However, a joint investigation would be carried out with the government's Department of Mineral Resources to establish the exact cause, he added.
The Association of Mineworkers and Construction Union (Amcu) said this was not the first time that a fire had broken out at the mine, and it was demanding that a "safety audit" be conducted.
South Africa is one of the world's leading gold producers, and has some of the deepest mines with nearly half of all gold reserves, according to industry groups.
Related Internet Links
The BBC is not responsible for the content of external sites.