Ivory Coast's ex-first lady Simone Gbagbo in court debut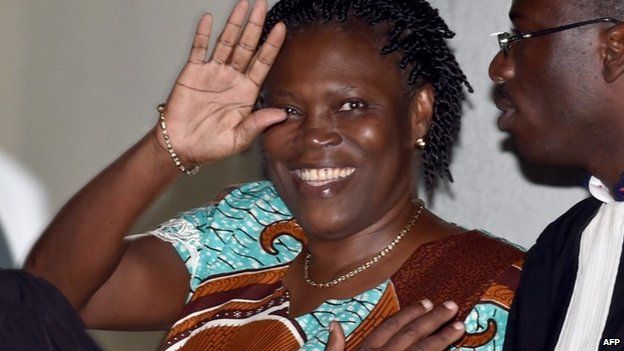 Ivory Coast's former first lady, Simone Gbagbo, has denied wrongdoing for her alleged role in the violence that followed the 2010 elections.
Ms Gbagbo was giving evidence for the first time at her trial in Abidjan.
Her husband, former President Laurent Gbagbo, is awaiting trial at the International Criminal Court (ICC).
He refused to accept defeat in the presidential elections, sparking months of violence that claimed more than 3,000 lives.
"I don't know exactly what the concrete actions are that I am being accused of," Mrs Gbagbo said at the hearing, according to the AFP news agency.
She also insisted her husband was the legitimate winner of the elections instead of his rival, Alassane Ouattara, who was declared the winner of the poll.
Police had to separate supporters and opponents of the Gbagbos as scuffles broke out outside the court.
The Ivorian judiciary had resisted pressure to send her to the ICC as well, where she is accused of war crimes, saying she and other key suspects should be tried in their homeland.
Mrs Gbagbo and more than 80 supporters of her husband have been charged with undermining state security.
Both sides have been accused of atrocities in the bloody clashes that followed the disputed elections.
The Gbagbos were eventually arrested in a bunker in April 2011, five months after the elections, following a military assault supported by UN and French troops.