Botswana night life: 'Car park pimping' in Gaborone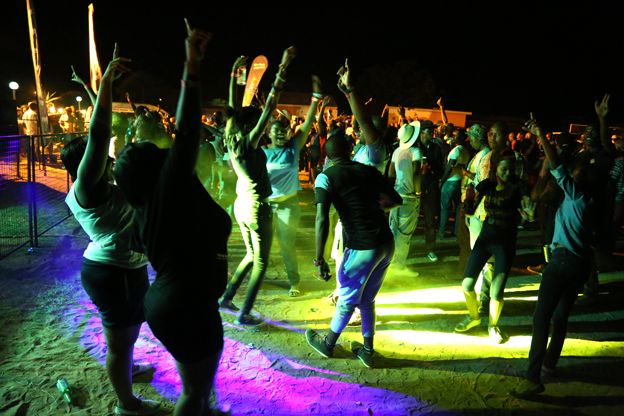 Alcohol taxes and nightclub curfews in one of Africa's quietest capital cities make it an unlikely place to hunt for the continent's best nightlife. But Botswana's youth have responded with outdoor music festivals and "car park pimping". So what is it?
Cars in Africa, it seems to me, run not on petrol but on the beeps and hoots of their horns. In most of the African capitals I have been to, you sit in traffic jams for hours, amid a constant cacophony of horns and shouting drivers.
But not in Gaborone, the capital of Botswana. What is noticeable here is how quiet it is. The only sounds I can hear in the centre of town are the rattles and clangs of builders constructing yet more brand new high-rises, hotels, office blocks or government ministries.
No traffic jams, no street food stalls, no hustle and bustle.
This somewhat eerie silence is all the more obvious because I've got sound on the brain. I'm trying to find the Best Nightclub in Africa - and with not many bars or even restaurants, I've become a bit worried that in Botswana I might find the worst nightclub in Africa. If I'm lucky enough to find one at all.
A population of 230,000, relatively small for a capital city, is one explanation for Gaborone's apparent lack of vibrant nightlife but the jovial Dolla Mac, a DJ at youth music station Yarona FM, puts it down to a government crackdown - and levy - on alcohol.
"It's a tax on sin," he says.
The tax was brought in with good intentions. The authorities wanted to reduce the amount of drink-driving and to "encourage responsible behaviour", according to a government representative. New licensing hours were also introduced, forcing clubs to shut at 02:00.
But Dolla Mac says that there have been unforeseen consequences. Many restaurants, bars and clubs have had to close down altogether, he says, because people just can't afford to go out any more - in part due to the alcohol tax.
"We're missing the Botswana we know," a girl called Sarah tells me exasperatedly.
But young people in Botswana are pushing back.
I talk to Sarah in a huge car park in one of Gaborone's suburbs. And it's rammed full of people. There are people sitting on cars, standing on roofs, and dancing on the back of pick-up trucks.
The youthful clientele - if that's the right term for those at an informal car park party - call it "car park pimping".
There are hundreds of cars outside a small bar playing loud music. Some of them pump out their own competing tunes.
Around the vehicles are clusters of friends with the two accessories essential for car park pimping - a cooler box filled with alcohol and camping chairs to sit around it. One group has even set up a pool table next to their car.
"This has always been a culture in Gaborone," says Bonni Dintwa, who's also from Yarona FM. "But since the alcohol levy, those who used to go to clubs come car park pimping. The numbers have increased hugely."
But the government's campaign against drink-driving is not without its supporters. "These days when people are drunk they think twice about climbing into their cars and speeding off at 120km/h [80mph]," says Gorata Masiapeto, who has remained sober at the party.
"The police are always everywhere," she adds. Police sometimes patrol in "booze buses", in which they can breathalyse people suspected of being over the limit or keep them in a temporary cell until they're sober enough to be charged.
But while police and party cars are common, taxis are not. It's an odd dynamic that a government crackdown on drink-driving has led to an increase in people getting drunk in and around their cars. It's hard not to imagine that at least some continue to drive while intoxicated.
And if that's the case in the city's parking lots, then it's even more of a question at the next stop on my tour of Botswana's nightlife - an all-night music festival way out of town.
After a 30-40 minute drive along the highway, past yet more building sites, a sandy football field appears on the horizon. In this small village outside Gaborone there's already a buzz of activity as people make last-minute preparations for a huge outdoor festival.
As the sun sets, the sky turns pink and the grey smoke of a barbeque drifts up into the clouds. In the evening light, people are dancing to live performances by local artists and showing off their latest dance moves - including the particularly impressive one of balancing bottles of beer on their bums.
Over a drink - balanced in my hand rather than anywhere else - and some barbequed meat, local DJ Gouveia explains that people like him have lost many nightclubs to play their music in. Instead it's alternative parties like this festival that have given them new locations where they can reach their fans.
As I make my way back to the city from this nightclub under the stars, it's clear that the government's "tax on sin" has not dampened the party spirit of young people in Botswana.
But any revellers driving back from the festival - inebriated or not - will have to watch out for the odd cow and goat crossing the road. Although at least they don't have to worry about the goats, I'm told, because they understand the traffic lights.