DR Congo launches strikes against FDLR Hutu rebels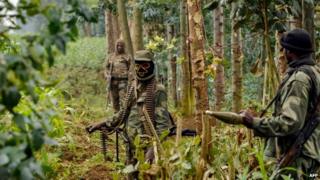 The Democratic Republic of the Congo has launched its first strikes as part of a long-awaited offensive against Rwandan Hutu rebels.
Ministers had previously pledged to target the FDLR militants after they failed to meet a deadline to disarm last month.
Some FDLR leaders have been linked to the 1994 Rwandan genocide.
Their presence in DR Congo has been a key factor behind two decades of conflict in the region.
Rwanda, led by a Tutsi-dominated government, has twice invaded its neighbour demanding that the FDLR be disarmed.
'International responsibility'
The UN mission in DR Congo recently withdrew its support for the offensive because it involved two government generals accused of human rights abuses.
Tuesday's attack took place in the South Kivu province, about 10km (six miles) from the border with Burundi, the military said.
However, a source with the rebels told the BBC they had been informed of the attack in advance and had already withdrawn.
DR Congo government spokesman Lambert Mende confirmed that troops had not met any resistance when they captured an FDLR position.
Ten weapons have been seized, he said.
Speaking as army chiefs launched their assault, the outgoing US special envoy to the region said the government "owe[d] it to its people" to end the threat posed by Rwandan Hutu rebels, AFP news agency reports.
Russ Feingold said extinguishing the threat was an "international responsibility", according to the agency.
Some of the FDLR leaders have been accused of taking part in the 1994 Rwandan genocide, in which 800,000 people - largely from the Tutsi minority - were killed.
A Tutsi-led government subsequently took power in Rwanda, while Hutu rebel leaders fled across the border into DR Congo (then known as Zaire).
As well as sending troops into DR Congo, Rwanda has been accused of providing military and financial support to a succession of Tutsi-led armed groups in eastern DR Congo, using them as proxies to attack the FDLR.
Rwanda has always denied these accusations.
---
Rwanda and DR Congo: Troublesome neighbours
April-June 1994: Genocide in Rwanda
July 1994: Paul Kagame's Tutsi rebels take power in Rwanda, Hutus flee into Zaire (DR Congo)
Rwanda's army enters eastern Zaire to pursue Hutu fighters
1997: Laurent Kabila's AFDL, backed by Rwanda, takes power in Kinshasa
1998: Rwanda accuses Kabila of not acting against Hutu rebels and tries to topple him, sparking five years of conflict
2003: War officially ends but Hutu and Tutsi militias continue to clash in eastern DR Congo
2013: UN helps defeat Tutsi-led M23 rebels, allegedly backed by Rwanda
February 2015: DR Congo launches offensive against Hutu-led FDLR