Nigeria's Goodluck Jonathan: Tide turned against Boko Haram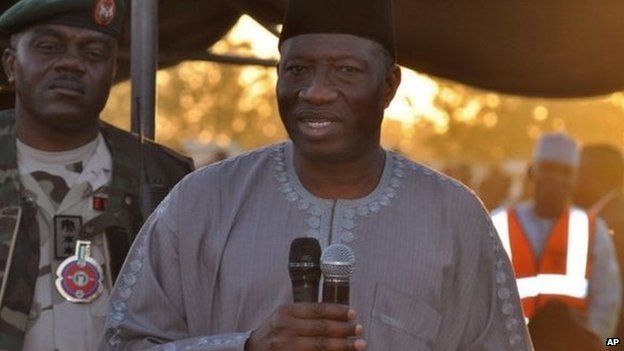 Nigeria's President Goodluck Jonathan has said the tide has "definitely turned" against militant Islamists as regional forces recapture territory.
His comments came hours after Boko Haram militants were blamed for killing 27 people in bombings in two commercial centres in the north on Tuesday.
Boko Haram had hit "soft targets" because of the setbacks it had suffered in battle, Mr Jonathan said.
Regional forces have recaptured eight major towns in recent weeks.
So Mr Jonathan's comments appear to have some credence, even if he made similar remarks last year, says the BBC's Bashir Sa'ad Abdullahi in the capital, Abuja.
The Nigerian military, backed by regional troops, is now taking the war to Boko Haram, rather than fleeing the battlefield, our correspondent adds.
However, at least six major towns are still held by Boko Haram, he says.
Many residents fear the militants will regroup and launch a new offensive to regain territory, he adds.
On Tuesday, suicide bombers blew themselves up at crowded bus stations in Kano, the most populous city in the north, and Potiskum, the main commercial town in north-eastern Yobe state.
At least 17 civilians were killed in Potiskum and 10 in Kano, police and hospital sources said.
"The president assures all Nigerians and the people of the north-eastern states in particular that the days of mourning victims of incessant terrorist attacks in the country will soon be over as the tide has now definitely turned against Boko Haram," Mr Jonathan's office said in a statement.
Nigeria's presidential and parliamentary elections have been postponed by six week to 28 March to give troops more time to beat back Boko Haram.
Mr Jonathan is facing a strong challenge from ex-military ruler Muhammadu Buhari in the poll.
Chadian troops have played a key role in helping Nigeria's military regain territory.
Military chiefs from Nigeria, Cameroon, Chad, Niger and Benin, are currently meeting to discuss plans to create an 8,700-strong force to fight Boko Haram.
Founded in 2002, initially focused on opposing Western-style education - Boko Haram means "Western education is forbidden" in the Hausa language
Launched military operations in 2009 to create Islamic state
Thousands killed, mostly in north-eastern Nigeria - has also attacked police and UN headquarters in capital, Abuja
Abducted hundreds, including at least 200 schoolgirls
Controls several north-eastern towns
Launched attacks on neighbouring states