Nigeria Boko Haram: Many killed in bus station bombings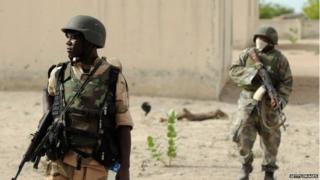 Bomb attacks have killed at least 32 people in northern Nigeria, amid a wave of violence from Boko Haram militants.
A suicide bomber killed at least 17 people at a bus station in Biu, witnesses say, while a second bomber was caught by a crowd and reportedly beaten to death.
In Jos, three bombs thrown from a car killed 15 people at a bus station and the university.
February's presidential election has been postponed because of the unrest.
The vote is now expected to take place on 28 March.
President Goodluck Jonathan, who was visiting the north-eastern garrison town of Baga, insisted that the army was winning the war against Boko Haram.
The army recaptured Baga from Boko Haram last week. The group still controls much of the north-eastern state of Borno and more than three million people have fled their homes.
Attacks in Kano and Potiskum on Tuesday claimed more than 50 lives. No group has said it carried them out.