South Sudan 'to question Shilluk leader over abductions'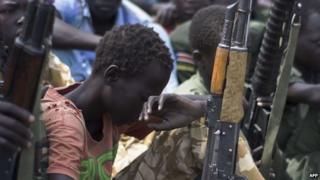 South Sudan's army says it has demanded an explanation from the leader of an allied militia accused of abducting hundreds of boys from school.
Army spokesman Col Philip Aguer told the BBC the leader of the Shilluk militia, Johnson Oloni, has been summoned over the reported abductions.
Hundreds of boys were captured by the militia this month to be used as child soldiers, according to the UN.
South Sudan says it does not directly control the Shilluk militia.
Mr Oloni was made a major general in the South Sudanese army as part of an amnesty in 2013. However, his forces have never been fully integrated into the military.
For more than a year, the South Sudanese army and allied militias have been fighting rebel groups loyal to former Vice-President Riek Machar.
All sides in the civil war have been accused of using child soldiers.
'Training camp'
The latest abduction took place in an area known as Wau Shilluk, in oil-rich Upper Nile state.
Last week, the UN's children's agency, Unicef, revised upwards its initial estimate that 89 children had been abducted by the Shilluk militia in mid-February as they were taking exams.
Unicef believes some of the children have been sent to a training camp, where boys as young as 12 have been seen carrying guns.
The UN believes 12,000 children were used as child soldiers across South Sudan last year.
About 1.5 million people have been displaced by the fighting in the country and 2.5 million are facing severe food shortages.