Ebola outbreak: Liberia releases last patient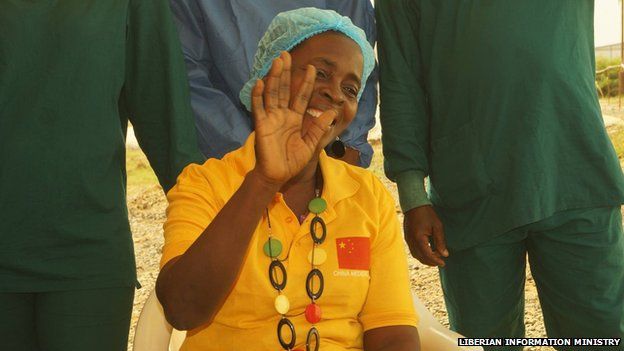 Liberia has released its last Ebola patient after going a week without any new cases of the virus, according to the World Health Organization (WHO).
Beatrice Yardolo, 58, left a Chinese-run treatment centre in the capital Monrovia after two weeks of treatment.
Nearly 10,000 people have died from Ebola, the vast majority in Guinea, Liberia and Sierra Leone.
WHO officials say there were 132 new cases in Guinea and Sierra Leone in the week to 1 March.
It is the first time since May 2014 that Liberia has had no new cases of the virus, the officials added.
Ms Yardolo, an English teacher, said she was "one of the happiest persons on earth" as she headed home from the treatment centre in Monrovia's Paynesville district.
She was the last patient undergoing treatment for the disease in Liberia.
But WHO officials have warned that populations are so mobile in the region that there could easily be fresh outbreaks in Liberia.
"We look at the three countries as really a single country, so while it's good news that Liberia itself has no new cases, the populations are so mobile in that region that there could easily be re-importations of cases," said WHO spokesman Gregory Hartl.
"We have to get down to zero in all three countries before we can consider this thing beaten."
The final stage of testing of an experimental Ebola vaccine will begin in Guinea on 7 March, according to the WHO.
WHO Director-General Margaret Chan said that if a vaccine is found to be effective, "it will be the first preventive tool against Ebola in history".
A WHO news release says that the vaccinations will take place in areas of the Basse Guinee region of Guinea, an area which has the highest number of cases in the country.
The objectives of the trial are to assess whether a buffer zone can be established to stop further Ebola infections and to gauge its effectiveness among frontline Ebola workers.
"An effective vaccine to control current flare-ups could be the game-changer to finally end this epidemic and [be] an insurance policy for any future ones," WHO Assistant Director-General Marie-Paule Kieny said.
Medics are meanwhile getting ready to discharge the country's last confirmed Ebola patient in the Liberian capital Monrovia.
The country has to have no new cases for 42 days to be declared Ebola-free.
In their latest assessment of the epidemic, WHO officials also warned that disease surveillance "may not be optimal" in Liberia because of the low number of samples.
They say that some communities are still resisting pleas to bring infected family members to treatment centres.
Only half of the 51 new infections in Guinea came from registered contacts of Ebola patients, the WHO says, and some cases are only identified after post-mortems are conducted.
'Unsafe burials continue'
Ebola is still far from eradicated in Sierra Leone, which recorded 81 new cases, including 26 in the capital Freetown.
"The number of confirmed Ebola virus disease deaths occurring in the community in Guinea and Sierra Leone remains high, suggesting that the need for early isolation and treatment is not yet understood, accepted or acted upon," the WHO statement said.
"Unsafe burials continue to occur, with 16 reports of unsafe burials in both Guinea and Sierra Leone, respectively," it said.
Liberian President Ellen Johnson Sirleaf on Tuesday called for a "Marshall Plan" for the Ebola-affected countries of West Africa.
She was referring to the massive US aid programme for Europe launched after World War Two.
Ebola virus disease (EVD)
Symptoms include high fever, bleeding and central nervous system damage
Spread by body fluids, such as blood and saliva
Fatality rate can reach 90% - but current outbreak has mortality rate of between 54% and 62%
Incubation period is two to 21 days
No proven vaccine or cure
Supportive care such as rehydrating patients who have diarrhoea and vomiting can help recovery
Fruit bats, a delicacy for some West Africans, are considered to be virus's natural host
Related Internet Links
The BBC is not responsible for the content of external sites.