Tanzania albino killers sentenced to death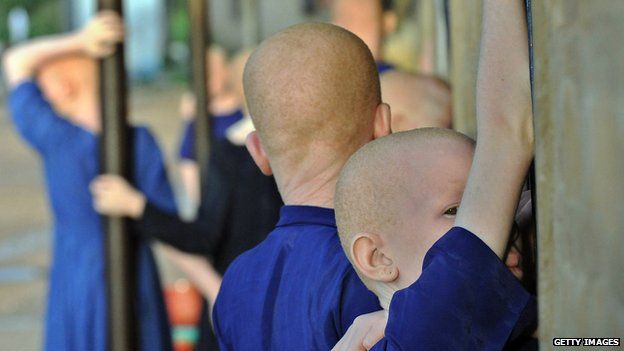 Four people have been sentenced to death in Tanzania after being found guilty of murdering an albino woman.
The four had killed the woman in 2008 because they believed her body parts had special powers, according to the judge in north-western town of Geita.
The 22-year-old victim, Zawadi Mangidu, left behind a nine-month-old child. Her husband is one of those convicted.
Tanzania's president this week vowed to tackle the killing of albinos, who are targeted for superstitious reasons.
The BBC's Hassan Mhelela in Dar Es Salaam says it is not certain that the death sentence will be carried out as Tanzania has had a moratorium on executions since 1994.
The country is struggling to curb a wave of violence against people with albinism - a condition that affects the production of skin pigment, our correspondent says.
Witchdoctors say potions made from albino body parts can bring good luck and wealth.
President Jakaya Kikwete said such beliefs were false and fuelled an "ongoing evil" which had shamed the East African nation.
The latest court ruling comes a few weeks after a one-year-old albino boy was killed in the same region.
The government banned witchdoctors in January as part of its efforts to prevent further attacks and kidnappings targeting albinos.
According to the Red Cross, witchdoctors are prepared to pay $75,000 (£50,000) for a complete set of albino body parts.
At least 75 people living with albinism in Tanzania have been killed in targeted attacks since 2000.
Albinism is particularly prevalent in Tanzania with one in 1,400 affected, according to a 2006 BMC Public Health report. This compares with one in 20,000 in Western countries.
Some researchers believe the higher rate is due to inbreeding.