DR Congo government 'almost as bad as rebels'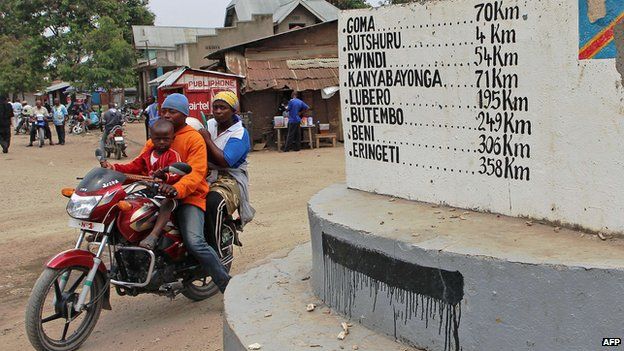 Abuse and exploitation in areas under government control in the east of the Democratic Republic of Congo are almost as bad as they were under rebel control, British charity Oxfam says.
Villagers interviewed for an Oxfam report complained of abuses including extortion, forced labour, illegal taxation and arbitrary arrests.
Local security forces were responsible for much of this, the report said.
A 2013 peace deal extended state control over eastern parts of DR Congo.
The agreement with the M23 rebels was intended to bring calm to areas that had seen two decades of conflict.
However, insecurity has persisted across much of the east, where armed groups and rebels - such as the ADF and FDLR - continue to operate.
In areas that had been brought under government control, villagers interviewed by Oxfam said officials exploited them using similar methods - and to almost the same level - as when those areas were under rebel control.
Women and young men were among those worst affected by the abuses.
A woman in her early thirties told Oxfam that she had been told "justice doesn't concern women" when she went to report a case of rape.
Residents of the region also said they had to pay government soldiers to get through illegal roadblocks, and risked a beating if they refused.
Oxfam says its report, Secure Insecurity, reveals "that many living in this region are so disconnected from authorities that they cannot access - or are forced to pay for - basic services, including protection against crimes and abuses inflicted upon them."
"Overall, the research reveals how little progress has been made towards building legitimate and credible state authority in many parts of eastern DRC," the charity said.