South Sudan mediators attack 'unacceptable' talks failure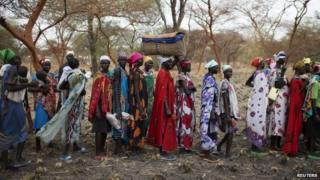 Mediators in peace talks between South Sudan's government and rebels have said both sides' failure to reach a deal is morally and politically "unacceptable".
Ethiopian Prime Minister Hailemariam Desalegn, the chair of a regional body overseeing the talks, said South Sudan's leaders had failed its people.
Their inaction, he said, would prolong suffering and a senseless war.
The 14-month conflict in South Sudan has displaced more than a million people and killed tens of thousands.
The government, led by President Salva Kiir, and the rebels, led by Riek Machar, missed Thursday's deadline for reaching a deal in talks in Ethiopia, overseen by the East African regional body, Igad.
Further talks on Friday also ended without agreement.
---
Analysis: James Copnall, South Sudan expert
Prime Minister Hailemariam's statement - which is unusually direct by diplomatic standards - reveals the international frustration with South Sudan's leaders.
He says the regional body Igad and others should now come up with a "comprehensive solution" to South Sudan's crisis, one which presumably will take a different form to the deal on the table which Salva Kiir and Riek Machar have been unable to agree on.
How can the outside world impose this, though? Will sanctions - which many in South Sudan reject - be imposed? And how can outsiders make peace if South Sudan's own leaders are not ready to do so?
---
Meanwhile, an African Union report into alleged human rights abuses in South Sudan recommended that Mr Kiir and Mr Machar be barred from any transitional government, according to a leaked draft from October seen by Reuters news agency.
The final report was meant to have been published in January, but AU heads of state postponed the publication to avoid obstructing peace talks.
Sanctions threat
Mr Hailemariam, the Igad chairman, said he regretted that "the talks did not produce the necessary breakthrough".
In an open letter addressed to the people of South Sudan, he attacked leaders on both sides for sticking to entrenched positions.
"The consequences of inaction are the continued suffering of you, the people of South Sudan, and the prolonging of a senseless war in your country. This is unacceptable, both morally and politically," he said.
"Continuing a war flagrantly disregards the interests of you, the people. It is an abdication of the most sacred duty leaders have to you, their people: to deliver peace, prosperity and stability."
The statement said mediators were hopeful that the "promise of peace will be fulfilled in the near future" - but did not say whether further talks were planned.
---
Leaders at war
Former rebel leader Salva Kiir (above left) became president of South Sudan, the world's newest state, when it gained independence in 2011
He sacked his deputy, Riek Machar (above right), in 2013, and then accused him of planning a coup
Mr Machar denied the charge, accused Mr Kiir of failing to tackle corruption, and raised a rebel force to fight government troops
Power struggle between the two men spilled into clashes along ethnic lines between Mr Machar's Nuer group and Mr Kiir's fellow Dinka
Peace talks have stalled on the issue of power-sharing in government. Both sides are also keen to control oilfields in the resource-rich nation
However their struggle has stalled development and left some of the world's poorest people even poorer - and at risk of hunger
---
Mr Hailemariam's statement also suggested that the peace process itself may need to be "reinvigorated and reformed".
Igad, he said, would use "all influence" at its disposal "to convince those that remain intransigent" - an apparent reference to imposing sanctions on the leadership on both sides.
The UN last week announced the creation of a system that would allow sanctions to be imposed on those who obstruct the peace process - but did not mention anyone by name.
The UN has already imposed some limited sanctions and the US has warned both sides of further steps - including an arms embargo - if no deal is reached.
---