Zambia President Lungu goes to South Africa for treatment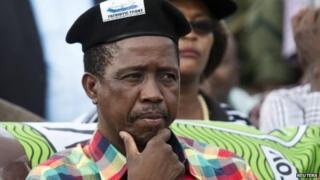 Zambian President Edgar Lungu has gone to South Africa for medical tests after his doctors found that he needed throat surgery.
"I hope to come back alive, no-one wants to die," Mr Lungu joked, before leaving on Tuesday afternoon.
He was discharged from a local hospital on Monday a day after collapsing while giving a speech to mark International Women's Day in the capital, Lusaka.
He was elected in January following the death of his predecessor Michael Sata.
During the campaign, the 58-year-old denied reports that he was sick and he offered to undergo a medical check-up.
Zambians concerned
On a visit to a slum in Lusaka on Tuesday morning he reassured journalists that he was "feeling much better" and would travel to South Africa in the afternoon.
"I need to go for further tests and then if there will be need for further procedures such as surgery, they will tell us," he said.
A statement released on Monday from the president's office said he was suffering from a narrowing of the oesophagus which needed "high-tech medical procedure which is currently unavailable in Zambia".
It said this was a recurrence of a condition for which he had been treated 30 years ago.
Mr Lungu, a former defence minister, is due to serve the remainder of Mr Sata's term, until elections in 2016.
While Mr Sata was president, the government was accused of covering up his ill-health.
The BBC's Meluse Kapatamoyo in Lusaka says that after the deaths of two serving presidents in six years, some Zambians are concerned.
However, they have been reassured by the regular medical updates on Mr Lungu's condition, she says.