Kenya police officer 'found with rhino horn'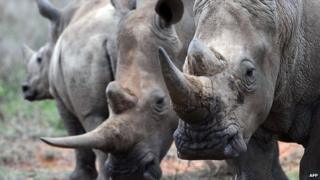 A Kenyan police officer and two other suspects have appeared in court over the illegal possession of rhino horn.
The officer was arrested with a piece of rhino horn weighing 600g (21oz), the Kenya Wildlife Service (KWS) says.
Rhino horn is said to sell for around $65,000 (£43,200) per kg on the Asian black market.
Kenya has recently taken a more aggressive stance against poaching as it combats a surge in demand for rhino horn.
The suspect, a junior officer in the Kenya Police Service, was lured into a trap by KWS agents who posed as rhino horn buyers, says the BBC's Anne Soy in Nairobi.
The officer allegedly threatened to shoot the arresting officers before being overpowered and taken into custody with the other suspects on Monday night.
All three men pleaded not guilty and will be remanded in custody until a bail hearing.
It is not the first time a security official has been arrested in Kenya in connection with the illicit trade.
An army officer and a former US defence attach have in the past been caught, our correspondent says.