Kenyan MP's murder unsolved 40 years on
By Ellen Otzen
BBC World Service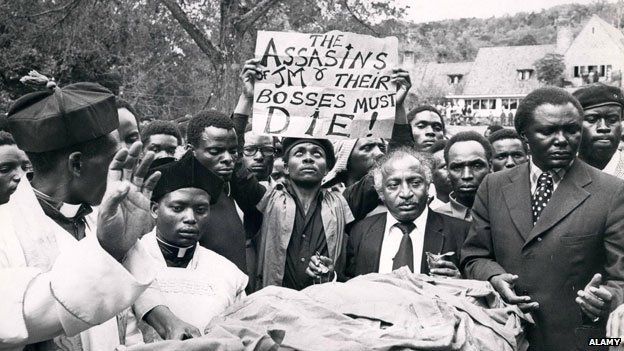 The case of the killing of a would-be presidential challenger in Kenya remains open 40 years after his death.
Josiah Mwangi Kariuki was an MP who disappeared in mysterious circumstances in 1975.
His widow Terry Wanjiru Kariuki remembers how she found herself in a Nairobi morgue, looking at his dead body one Tuesday afternoon in March that year.
"His face looked very dark, as if something had been poured on it," she says.
But it was the tag attached to his foot him with the word "unknown" that really sticks in her mind.
"Here is your husband, lying dead on the table. And somebody says he's unknown. That's what really tore my heart out," she told the BBC's Witness programme.
Known as "JM", her husband had gone missing from their home the previous week.
An ambitious and popular politician, he had spent time in prison as a member of the Mau Mau, the group that had fought for Kenya's independence in 1963.
Recently elected to the Kenyan parliament, he now had his eyes on the presidency.
On paper, he looked destined for success: He was a member of the influential Kikuyu ethnic group and as a former private secretary to the ageing President Jomo Kenyatta - he was part of the government's inner circle.
But in mid-1970s Kenya, dissent was not tolerated.
Mr Kariuki had rallied against corruption which he said was widespread, fought for land distribution that favoured the poor and argued that Kenya had become a nation of "10 millionaires and 10 million beggars".
Journalist and historian Martin Meredith, who covered JM Kariuki's murder for the Sunday Times in 1975, has described him as "a playboy", not a "particularly admirable character" but gifted with "an unerring popular touch".
His criticism of government policy did not earn him any favours with Kenyatta's group and made him some powerful enemies.
Speaking from the house she once shared with her husband and their children outside the capital, Nairobi, Terry Kariuki says he had already received threats to his life before he went missing.
"He knew people were after him and once or twice his car was shot at," she says.
"I guess he was too confident - he had bodyguards but didn't use them.
"We begged him to be careful and leave the country but he would say: 'Who would want to hurt me?'"
On 1 March, Mrs Kariuki took her husband to the doctor about a pain in his knee. Then they went their separate ways, and when she returned the following day, he was not at home.
Before disappearing, Mr Kariuki had left a message with staff, saying he was off to meet Ben Gethi, a senior intelligence officer who had called in on him that morning.
When he had still not returned the next day, Mrs Kariuki - his third wife - alerted the family and search parties were sent out.
After a heated questions in parliament, the government announced that Mr Kariuki was in Zambia.
This baffled the family as his passport was still at home and a friend and minister in the Zambian government said he had not seen him.
"We started to think something terrible must have happened to him," says Mrs Kariuki.
Finally came the news she had been dreading; a journalist told her he had had reports that JM had been assassinated.
She rushed to Nairobi's city mortuary and persuaded the manager to let her in. She did not have to look long before she found her husband's body lying fully clothed on a table.
"I recognised his olive-green jacket and a scarf that I knew.
"He hadn't been put in a cold room, in one of those boxes. Something was going on," says Mrs Kariuki.
She did not know who she could trust, so she hid her emotions at the morgue and pretended the body was not that of her husband.
But when the family heard the awful news, they stormed parliament at about 18.30, when many MPs were still there.
"You can imagine the commotion. We were a convoy of angry people. When we arrived, we found a senior minister having coffee. I poured the coffee over his head because I was so angry. Everyone was screaming, 'You have killed JM; JM is dead.'"
Together with some MPs, the family rushed back to the nearby morgue, which was now surrounded by heavily armed police officers.
As they went round the side of the building, they saw workers trying to push JM's body out through a window.
"It was like a horror movie. Another 10 minutes and the body would have been gone. People would have told me I was crazy," she says.
On 12 March, a police commissioner finally confirmed that Mr Kariuki was dead, killed by two bullet wounds.
At the post-mortem, Mrs Kariuki later discovered that the discolouration on her husband's face may have been caused by acid poured on to prevent identification of the body.
In Nairobi, students vented their anger on the streets and newspapers ran headlines saying Kenya's stability was at risk. This was the third murder of an outspoken politician in 10 years.
The government set up a commission of inquiry. But before it was published, President Kenyatta demanded the removal of certain names close to him.
Forty years on, the murder is still unsolved, though his widow remains convinced it was a political assassination.
"When you put two and two together, you know who killed JM. People around the president were very jealous of him and saw him as the only stumbling block for those who were vying for the presidency after Kenyatta."
To Herman Manyora, a Kenyan political commentator, JM Kariuki remains a contradiction of sorts.
"He was certainly flamboyant - a ladies' man with several wives - who liked the races; he was a millionaire and a capitalist himself, but he still talked about things that resonated with the common man," he says.
"He is remembered as one of a few courageous men who stood up to Kenyatta."