South Africa journalist Vuyo Mvoko mugging: Two men arrested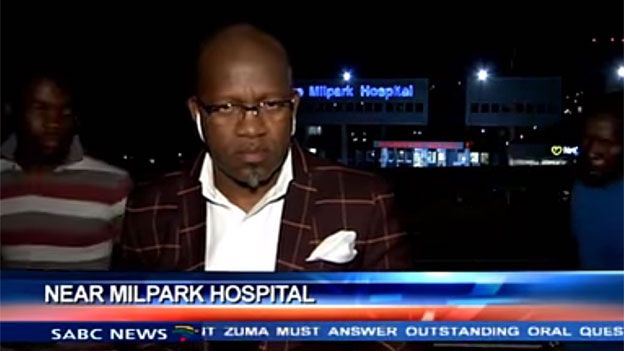 Two men have been arrested for mugging a well-known South African TV journalist on camera.
Vuyo Mvoko, a contributing editor with national network SABC, was robbed as he was about to go on air on Tuesday.
"We've just positively identified our phones among several other stolen goods," Mr Mvoko tweeted.
Two more suspects were arrested for buying stolen goods, including laptops belonging to SABC TV. All four are expected to appear in court on Monday.
According to Mr Mvoko, one suspect is still on the run.
Police had offered a 100,000 rand ($8,000; £5,400) reward for information leading to arrests.
Footage of the incident, which took place in Johannesburg, has been widely viewed online.
The robbers' faces are visible and they appear unconcerned by the presence of the camera. Mr Mvoko said one of them threatened him with a gun.
The journalist had been waiting outside Johannesburg's Milpark Hospital to report on the arrival of Zambia's president for medical tests.