DR Congo to expel activists from Senegal, Burkina Faso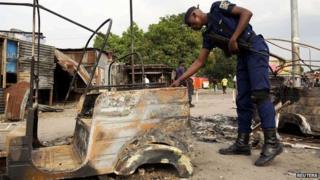 The Democratic Republic of Congo says it will deport four pro-democracy activists from Senegal and Burkina Faso arrested on Sunday.
About 20 other activists arrested on the same day are still being detained.
Those facing expulsion are members of well-known civil society groups which took part in popular uprisings in their countries.
The Congolese government says they were suspected of posing a threat to state security.
DR Congo's government has accused the detained activists of plotting an insurgency with US backing, an allegation Washington has denied.
It said the pro-democracy event it co-sponsored in the capital, Kinshasa, was non-partisan.
The three Senegalese activists were part of Y'en a marre (We've had enough), which organised protests to stop then-Senegalese President Abdoulaye Wade from extending his 12-year term in 2012 in defiance of the constitution.
The Burkinabe was part of Citoyen Balaye (Citizen Broom) which helped mobilise people who overthrew Burkina Faso's long-serving ruler Blaise Compaore last year.
Concern about stability in resource-rich DR Congo has been mounting ahead of presidential elections due next year.
At least 40 people were killed during protests in January after the opposition raised concern that President Joseph Kabila planned to delay the polls in order to cling to power - a charge the government denied.