Kenya's Wajir town hit by deadly 'al-Shabab' attack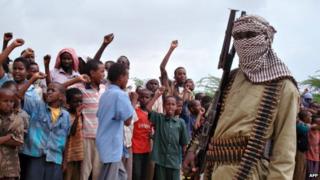 Four people have been killed in an attack in north-east Kenya, officials say.
Security sources said a group of hooded men threw a grenade at a small shop in the town of Wajir, about 100 km (60 miles) from the Somali border.
Local police said the shop caught fire, burning the bodies of the victims beyond recognition.
The attack is the fourth in five days in Kenya's remote and restive north-east region.
"They locked [people] inside the shop, set it on fire and left. Three died inside while one [died] while being ferried to hospital," Reuters quotes Mohamed Siyat, a county government official saying.
Somalia's al-Qaeda-linked al-Shabab militants have said they carried out the attack.
The north-eastern region stretching from Wajir to the border town of Mandera has often been targeted by al-Shabab, which has vowed to punish Kenya for sending troops into Somalia, where it is helping the UN-backed government battle the Islamist militants.