Tunis Bardo museum: Nine suspects arrested for links to attack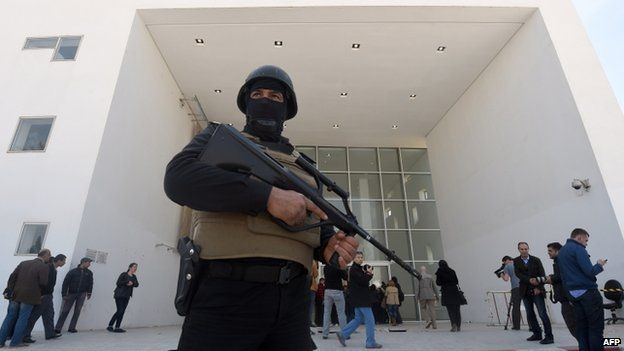 Nine people have been arrested in connection with a gun attack in Tunis that saw 23 people killed on Wednesday, including 20 foreign tourists.
Tunisia's presidency said four of those arrested were directly linked to the attack and five had "ties to the cell".
The army will also be deployed to major cities, the presidency added.
In another development, Islamic State said it was behind the attack on the Bardo museum, using an audio message to praise two "knights of the caliphate".
The message, posted on Twitter accounts known to be reliable sources of IS propaganda, named the attackers as Abu-Zakariya al-Tunisi and Abu-Anas al-Tunisi.
A statement described the attack as a "blessed invasion of one of the dens of infidels and vice in Muslim Tunisia".
One of two gunmen involved in the Bardo museum attack, named by Tunisian officials as Yassine Laabidi, was reportedly known to the authorities.
Tunisian Prime Minister Habib Essid told RTL Radio that security services had flagged him up but were not aware of "anything specific", or of any links to known militant groups.
Laabidi and his accomplice, named as Hatem Khachnaoui, were killed as security forces stormed the museum.
It was not immediately clear how the identities of the gunmen corresponded to the names given by IS. Jihadist groups, including IS, often give their fighters noms de guerre.
Tourists from Japan, Colombia, Australia, the UK, and several other European countries were killed in the attack and more than 40 people were injured.
Analysis by Frank Gardner, BBC security correspondent
The claim by so-called Islamic State, if authentic, that it carried out Wednesday's attack in Tunis, needs to be seen in context. IS does not control any territory in Tunisia, there is no IS "province" as exists in Syria and Iraq.
Tunisia, unlike its unfortunate neighbour Libya, is a modern, functioning state with an elected government and trained police and security forces. That said, Tunisia suffers from a number of factors that make it ripe for exploitation by IS, which would surely like to include it in an eventual string of North African provinces stretching all the way from Egypt to Nigeria.
Between 3,000 and 5,000 Tunisians have gone to join IS, with an estimated 500 having returned. There is chaos to the east in Libya and jihadists hiding on the border with Algeria. There are also many young, dissatisfied Tunisians who feel economically and politically frustrated, the very reason why Tunisia became the birthplace of the Arab Spring in 2011.
The suspects arrested on Thursday were not identified and no further details were given of their alleged involvement.
However, BBC security correspondent Frank Gardner says an al-Qaeda operative has claimed that the two gunmen had spent two months training with militants in Derna, eastern Libya, before slipping back into Tunisia.
In a statement, Tunisia's presidency said the country was facing "exceptional circumstances".
"After a meeting with the armed forces, the president has decided large cities will be secured by the army," the statement added.
Later on Thursday, US President Barack Obama called his Tunisian counterpart to Mohamed Beji Caid Essebsi to offer "sympathy, on behalf of all Americans, to the victims' families and loved ones", the White House said.
It added: "The president affirmed our continued robust co-operation on counterterrorism and broader security issues with the Tunisian government and offered continued US assistance and support in the ongoing investigation."
As Tunisia attempted to come to terms with the attack, a large anti-terrorism protest took place at the site of the attack.
People carried banners calling for peace and lit candles in memory of the dead.
Witnesses to the attack said the gunmen, carrying assault rifles, opened fire on tourists outside the museum in front of a row of buses before charging inside and taking hostages.
On Thursday, two Spanish tourists and a Tunisian museum worker were found at the museum after having hidden there overnight believing the attack might not have been over, police said.
The attack is a huge blow for Tunisia's tourism industry and its government, which only emerged at the end of a long political transition several months ago, the BBC's Arab affairs editor Sebastian Usher says.
MSC said in a statement that at least nine of those killed had been passengers on its MSC Splendida cruise ship which was docked in Tunis. It said another 12 of its passengers were injured and six were still unaccounted for.
Costa said that three passengers from the Costa Fascinosa had died. Eight others were injured and two were unaccounted for, company CEO Michael Thamm said.
According to Tunisian authorities, 23 people were killed - though it is not clear if totals provided by the authorities include the gunmen. Some of the countries involved have given different totals and not all the dead have been identified. The dead include:
At least three Tunisians, including a police officer involved in the security operation
Five Japanese were killed, according to Mr Essid - although Japan says it has only confirmed the deaths of three citizens
Four Italians
Two Colombians
Two Spaniards
One national each from the UK, Australia, France and Poland
At the time of the attack, deputies in the neighbouring parliament building were discussing anti-terrorism legislation.
Sayida Ounissi, an MP, told BBC Radio Four's Today programme that according to the security services the gunmen had originally planned to attack parliament.
A statement released by a jihadist media outlet gave a similar account, saying the gunmen began killing tourists after being repelled by police at the parliament. The statement did not say which group carried out the attack.
Tunisia began a transition to democracy in 2011 with the overthrow of long-serving ruler Zine al-Abidine Ben Ali.
Hardline Islamists have tried hard to derail the process and security concerns have increased as neighbouring Libya has become increasingly unstable.
A large number of Tunisians have also left to fight in Syria and Iraq, triggering worries that returning militants could carry out attacks at home.
Tunisia's Culture Minister, Latifa Lakhdar, told reporters that the museum would re-open to the public early next week.