Nigerian army 'rescues nearly 300' from Sambisa Forest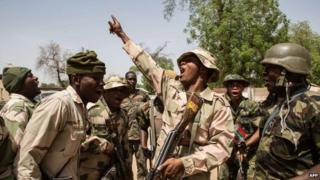 The Nigerian military says it has rescued 200 girls and 93 women from an area where the Islamist militant group Boko Haram is active.
However, it said the girls abducted from a school in Chibok in April 2014 were not among them.
The military said the girls and women were freed during major operations ending in the seizure of four Boko Haram camps in the Sambisa Forest.
It is not yet clear where they come from, a military spokesman said.
Weapons were also seized at the camps taken in the latest operation, the military said.
In recent months Nigerian security forces have taken back most of the territory previously under the control of Boko Haram, the BBC's Tomi Oladipo reports from Lagos.
---
Latest news updates from across Africa
---
Gen Chris Olukolade said the hostages were freed as part of a major, ongoing operation.
He said accurate intelligence had helped the military locate the camps, which had been attacked from all directions by ground and air forces.
Last October, the government said it had secured an agreement for a ceasefire and the release of the girls taken from Chibok, but Boko Haram subsequently denied this.
---
Analysis: Will Ross, BBC News, Lagos
The rescue is a rare piece of good news from north-east Nigeria - unless you count the recapture from the jihadists of largely destroyed ghost towns.
We have to wait for evidence before we can be sure that so many hostages are indeed free.
Inevitably the world wants to know if the Chibok girls are part of the group. Even though Amnesty International say 2,000 women and girls have been abducted over the past 18 months, the mass abduction of students is the event which shone the international spotlight on this conflict.
For the Chibok girls' relatives, the emotional rollercoaster continues.
In a week where a mass grave has been discovered and 74 people were killed by Boko Haram near Lake Chad, at least some relatives will finally be reunited with their missing loved ones.
---
The abduction of the girls in Chibok sparked global outrage with many joining a campaign online to free them using the hashtag #BringBackOurGirls.
Several nations including the US and China vowed to help find them and there have been reported sightings of the girls, but none has been found to date.
Meanwhile, the government of neighbouring Niger has given more details about fighting between its troops and Boko Haram on an island in Lake Chad over the weekend.
It says 28 civilians died when Boko Haram attacked Karamga island and that 46 of its troops died in the battle for the island, along with more than 150 militants. Reports in local media have given a much higher death toll for government forces.
Boko Haram's insurgency, and the army campaign against it, have killed more than 15,500 people since 2012. The violence has recently spread to neighbouring Niger, Chad and Cameroon.