Boko Haram crisis: Nigerian army 'frees more captives'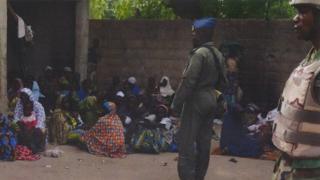 Nigeria's military says it has freed another sizeable group of people during its offensive against Boko Haram militants in the vast Sambisa forest.
One woman died and eight others were wounded as nine camps belonging to the Islamist insurgents were destroyed, army spokesman Col Sanu Usman said.
He told the BBC at least 100 men and boys were among more than 160 people rescued in operations on Wednesday.
Earlier this week, the army said it had freed nearly 300 women and children.
The girls abducted from a school in Chibok in April 2014 were not among them.
---
Africa news round-up: 30 April
---
Thousands have been killed in northern Nigeria since Boko Haram began its insurgency in 2009 to create an Islamic state.
In February, Nigeria's military, backed by troops from neighbouring countries, launched a major offensive against the Islamist fighters. It has recaptured much of the territory Boko Haram had taken in the previous year.
The Sambisa forest, said to be a huge area surrounding a reserve of the same name in the north-eastern Borno state, is home to their last hideouts, the army says.
The army has released photographs of women and children it says have been rescued.
BBC Nigeria correspondent Will Ross says some of those shown appear malnourished, even emaciated.
The effort to flush Boko Haram out of their last major stronghold has not been easy, he says.
The BBC has learnt that near one camp the soldiers were shocked when a group of women opened fire on them.
A community leader who has met many former Boko Haram captives says they are often brainwashed and traumatised.
He told the BBC there is a great need for more psycho-social support to help them reintegrate back into society.
Col Usman told the BBC Hausa service that those rescued are being kept in an undisclosed secure location.
An army statement said those rescued were now being interviewed to ascertain their true identities.
They had been "held captive under very severe and inhuman conditions" it said.
The eight injured women were in a critical condition, said Col Usman.
One soldier and several Boko Haram field commanders and foot soldiers were killed in the fighting and several armoured vehicles, some with anti-aircraft guns, had been destroyed, the army says
In total 13 camps had been destroyed in Sambisa this week, it added.
It is not clear if those rescued were kidnapped or were taken hostage from villages taken over by the militants.
A local senator says the women and children are likely to have been residents of the north-eastern nature reserve.
"These are farming communities and most of those left behind in villages are the elderly ones, women and girls because the youth and the strong ones normally have to run or otherwise they will be conscripted into the Boko Haram insurgent group," Ali Ndume told the BBC's Focus on Africa radio programme.
He said the Sambisa forest reserve is vast so it was difficult to know how many people were still living in territory controlled by the Islamist militants.