Burundi's Pierre Nkurunziza rules out fourth term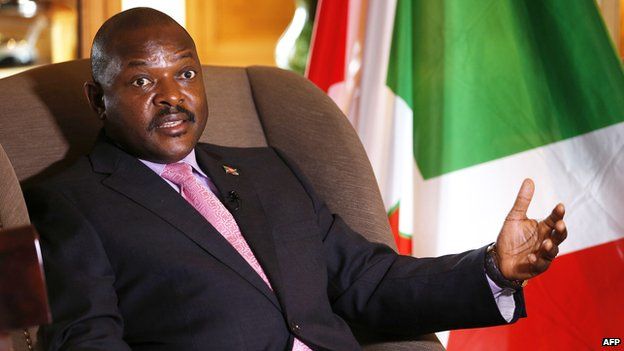 Burundi's President Pierre Nkurunziza says he will not run for a fourth term, as deadly protests against his third-term bid continue in the capital.
Mr Nkurunziza called for an immediate end to the protests so that elections could be held peacefully in June.
The Red Cross said one person was killed and nine injured in the latest protests, raising the number of people killed since 25 April to 13.
The unrest is the worst to hit Burundi since a civil war ended in 2005.
Mr Nkurunziza has rejected pressure from the US to step down.
He was nominated by the ruling CNDD-FDD party on 25 April to run for office again.
Mr Nkurunziza has ruled Burundi since the end of the 12-year civil war which killed about 300,000 people.
The AFP news agency reports that its journalists saw police open fire on demonstrators on Thursday in the capital Bujumbura's Kinama district, killing one with a bullet to the head and wounding three others.
On Wednesday, an opposition presidential candidate, Audifax Ndabitoreye, was arrested on suspicion of fuelling an insurrection. He was later released.
"I am free but they [police] might ask me to come back to hear me. I am home, my wife is crying but they are tears of joy," Mr Ndabitoreye is quoted by the Associated Press news agency as saying.
Mr Nkurunziza is due to hand his nomination papers to the electoral commission.
In a televised address on Wednesday night, Mr Nkurunziza said that all those arrested would be released if the protests stopped.
Foreign ministers from four East African states are currently in Burundi in at attempt to end the crisis.
Burundi's constitutional court ruled on Monday that Mr Nkurunziza can run for a third term.
The ruling came after the court's vice-president, Sylvere Nimpagaritse, had fled Burundi, saying the court had been under pressure to endorse Mr Nkurunziza's re-election bid.
The president's spokesman Gervais Abayeho denied that judges had been threatened or pressured.
Under the constitution, presidents can only be elected to two terms in office but it was argued that his first term does not count as he was appointed by parliament.
The UN refugee agency says that more than 20,000 people have left for neighbouring countries because they fear violence could escalate in Burundi.