Boko Haram fight 'hampered by poor Chad-Nigeria co-ordination'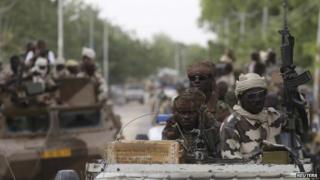 Chad's President Idriss Deby has said the fight against Boko Haram militants is being hampered by poor co-ordination between his country and Nigeria.
Mr Deby said that some progress had been made since Chad intervened against the Islamist insurgents.
But had the two countries' armies worked together Boko Haram would have been wiped out by now, he said.
The fight against Boko Haram has drawn in Nigeria's neighbours as the militants threaten their security.
Chadian forces crossed into north-eastern Nigeria earlier this year and fought the militants in towns of Damasak and Baga.
This helped the Nigerian military offensive and since February much of the territory taken over by Boko Haram in the previous year has been recaptured.
---
---
"If we want to continue the fight we'll have to make sure that our two armies work together," Mr Deby said on a visit to Nigeria where he met President Goodluck Jonathan.
"This is the only way that we can get results," he added.
Chad's leader, who has been critical of Nigeria's approach to fighting the militants in the past, also met President-elect Muhammadu Buhari.
He takes office later this month and analysts say he will be under pressure to improve relations with regional states after these comments.
---
Boko Haram at a glance
Founded in 2002, initially focused on opposing Western-style education - Boko Haram means "Western education is forbidden" in the Hausa language
Launched military operations in 2009 to create Islamic state
Thousands killed, mostly in north-eastern Nigeria - has also attacked police and UN headquarters in capital, Abuja
Has abducted hundreds, including at least 200 schoolgirls
Seized vast area in north-east, where it declared caliphate
Regional forces have retaken most territory
Why Boko Haram remains a threat
---
The BBC's Abdullahi Kaura Abubakar in the capital, Abuja, says there was an earlier attempt for the countries to work together but that was not effective because of a lack of co-operation.
Chad, Cameroon and Niger are all working mainly on their sides of the border with Nigeria to stop any attacks by Boko Haram.
An African Union plan to set up an 8000-strong multi-national regional force to fight the insurgents has not yet been implemented.
Thousands have been killed in northern Nigeria since Boko Haram began its insurgency in 2009 to create an Islamic state.