Nigeria's Muhammadu Buhari visits Niger to discuss Boko Haram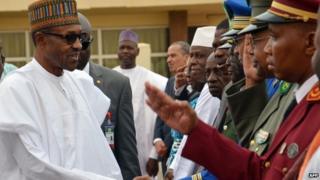 Nigeria's President Muhammadu Buhari is making his first foreign trip - to Niger - since taking office last week.
He discussed the regional offensive against Boko Haram militants with Nigeria's northern neighbour.
Niger, Chad and Cameroon have been helping Nigeria recapture territory from the insurgents, who Mr Buhari has described as "mindless" and "godless".
At his inauguration, Mr Buhari vowed that he would tackle "head on" the six-year Islamist insurgency.
The trip comes as rights group Amnesty International accused senior officers in Nigeria's army of being responsible for the deaths of more than 7,000 young men held in custody during operations against Boko Haram - accusations rejected by the military.
'Good results'
President Buhari told his Nigerian counterpart Mahamadou Issoufou that Nigeria would "collaborate" with her neighbours to ensure "peace and stability".
---
---
Mr Buhari made reference to the fact that Nigeria's military command centre was being relocated to the north-eastern city of Maiduguri and said military chiefs from the region would now meet to advise on how to bring an end to the crisis.
Nigeria was also seeking support for "weapons supply, rebuilding schools, health care facilities, bridges, and other infrastructure that has been destroyed so that people can go back to their towns and continue living meaningful lives", he said.
Last week, the UN refugee agency said about 200,000 Nigerians had sought refuge in Niger, Chad and Cameroon because of the crisis.
President Issoufou pledged his ongoing support: "We are ready to go anywhere to fight to overcome Boko Haram.
"And I think that President Buhari's determination is similar with ours to continue the fight against Boko Haram, and in a few months' time, by God's grace, we will begin to see good results."
'Poor co-ordination'
After a day in Niger, Mr Buhari will head to Chad, whose leader has been critical of Nigeria's approach to tackling Boko Haram.
Last month, President Idris Deby said the fight had been hampered by poor co-ordination between the Chadian and Nigerian armies.
Chad, Cameroon and Niger have mainly been working on their sides of the border with Nigeria to stop attacks.
But earlier this year, forces from Chad and Niger crossed into north-eastern Nigeria to help recapture towns when the militants began threatening neighbouring states.
Correspondents say Mr Buhari's discussions are also likely to focus on a regional force to confront the group.
An African Union plan to set up an 8,000-strong multi-national regional force to fight the insurgents has not yet been implemented.
According to Amnesty International, at least 17,000 people, mostly civilians, have been killed since the group launched their violent uprising to impose Islamic rule in 2009.
The group is still holding many women, girls and children captive, including 219 schools girls it kidnapped from a school in Chibok in April last year.
Despite losing territory and retreating to the Sambisa forest, the militants are still active - most recently in Maiduguri which has come under attack over several days.
On Tuesday, a new video was released by the group which it said was filmed in Sambisa, a vast forest surrounding a game reserve.
However, Boko Haram leader Abubakar Shekau failed to appear in it, fuelling speculation about his fate.