Fifa scandal: South Africa denies $10m World Cup bribe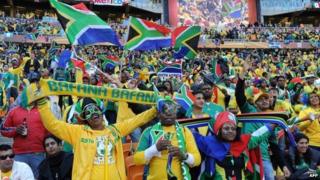 South Africa has denied paying a $10m bribe to secure the 2010 World Cup, in the wake of a US inquiry into corruption at world football body Fifa.
Sports Minister Fikile Mbalula said the money in question was above board and intended to support football in the African diaspora in the Caribbean.
The Fifa scandal erupted last week when US prosecutors indicted 14 people.
On Tuesday, president Sepp Blatter said he was to step down, just days after he had been re-elected for a fifth term.
Of the 14 people indicted by the US on charges of racketeering and money laundering, seven were senior Fifa officials, including two vice-presidents. The seven were arrested in Switzerland as they awaited the Fifa congress that re-elected Mr Blatter and are currently awaiting extradition to the US.
The US justice department alleges the 14 accepted bribes and kickbacks estimated at more than $150m (£97m) over a 24-year period.
US officials quoted in the New York Times also said on Tuesday that Mr Blatter, 79, was under investigation as part of the inquiry. They said they hoped some of the Fifa figures charged would help to build a case against him.
Interpol alerts
US officials allege South Africa paid a $10m bribe in exchange for support for its 2010 World Cup bid from former Fifa vice-president Jack Warner and several other members of the North, Central American and Caribbean Association Football (Concacaf).
But in a press conference on Wednesday, Mr Mbalula said South Africa "categorically denied" the allegation, adding that the money went towards an approved programme to help the development of football in the Caribbean.
The money went into a fund controlled by Mr Warner.
Analysis: Andrew Harding, BBC News, Johannesburg
South Africa's sports minister was on fiery, bombastic form in Johannesburg, as he lashed out against the bribery allegations being levelled against his country.
Fikile Mbalula made it clear he believed "vested interests," and "imperialism" led by a United States "parading itself as "the world's policeman," were behind the FBI's sensational claim that South Africa paid $10 million to secure the 2010 World Cup.
"We are not in defensive mode... [but] we have a responsibility to defend the legacy of the World Cup... and our country's reputation," he said at a news conference at the headquarters of South Africa's Football Association.
Mr Mbalula, and the top official in his ministry, Alec Moemi, repeatedly insisted that the $10 million transferred to the Caribbean in 2008 was not a late bribe - four years after the vote - but a donation to support the African diaspora.
Separately, Interpol issued a wanted persons alert for two former Fifa officials, including Jack Warner, as well as four corporate executives. All six were on the list of US indictments last week.
Announcing his resignation on Tuesday, Sepp Blatter said it appeared the mandate he had been given in last Friday's Fifa vote "does not seem to be supported by everyone in the world of football".
How Fifa makes and spends its money
Mr Blatter said he would continue in his post until an extraordinary congress was called to elect a new president.
No dates have been set, but it is expected to take place between December this year and March 2016.
When he returned to Fifa on Wednesday, Mr Blatter was reportedly given a 10-minute standing ovation from about 400 staff and was said to be close to tears as he told them they were a "fantastic team" and they should "stay strong".
Mr Blatter's daughter, Corinne Blatter-Andenmatten, is quoted by Swiss Daily Blick (in German) as saying her father's decision to resign "has nothing, absolutely nothing, to do with the allegations going around".
Caf says it supports Fifa reforms
How would Fifa officials be extradited?
A separate criminal investigation by Swiss authorities into how the 2018 and 2022 World Cups were allocated is also under way.
Australian football chief Frank Lowy said in an open letter on Wednesday that the race to win the 2022 bid, which was awarded to Qatar, was "not clean" and that he had shared what he knew with the authorities.