Maggi noodles withdrawn in East African supermarket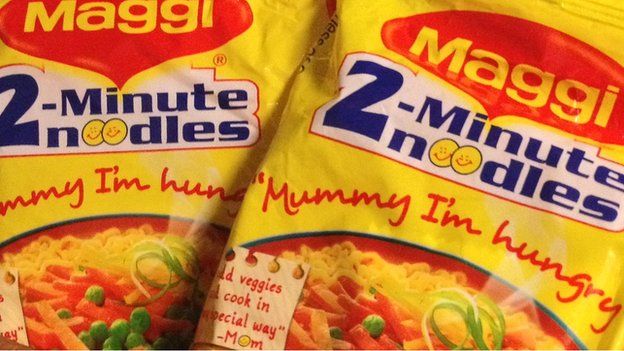 East Africa's biggest supermarket chain has withdrawn Nestle's Maggi noodle brand from its shops in five countries, amid concerns over food safety.
Nakumatt says the noodles have been withdrawn from shops in Kenya, Uganda, Tanzania, Rwanda and South Sudan, after demands from a Kenyan consumer group.
The group was reacting to a partial ban in India, where regulators described the product as "unsafe and hazardous".
Nestle maintains that Maggi noodles are completely safe.
Maggi noodles are very popular in Kenya, and the company's seasoning cubes, which are not involved in the current controversy, are widely used in West African cuisine.
The Consumer Federation of Kenya (Cofek), which launched the complaint, says that Kenyan supermarket chains Tuskys and Naivas have also agreed to voluntarily withdraw the noodles.
Kenya's Bureau of Standards, the official government watchdog for product standards, has now issued a "verbal recall" for the noodles, according to a statement on the Cofek website.
Cofek has also asked Kenya's port authority to prevent further imports of the product.
Indian food regulators said that tests revealed high lead levels in the product, describing it as "unsafe and hazardous", leading to a ban on the product in several states.
Nestle says that since Indian regulators raised their concerns, it has tested a batch of 1,000 Maggi noodles in the country and found "lead levels.. well within the limits specified by food regulations".
Related Internet Links
The BBC is not responsible for the content of external sites.