Kenyan teachers blacklisted for sex with students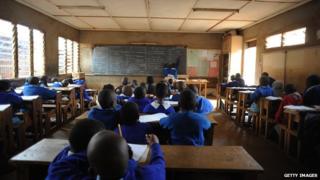 Kenya's authorities have banned 126 teachers for "gross misconduct", most for sexual abuse of their students.
The governing body said the teachers would not be allowed to teach again.
They were found guilty after a disciplinary process, the Teachers Services Commission (TSC) said.
A Child Welfare Society of Kenya has urged the director of public prosecutions to ensure those convicted are imprisoned, to protect other children in future.
This ban is a departure from previous reactions to sexual abuse by teachers, says the Kenyan newspaper the Daily Nation, as it says previously the TSC just transferred suspended teachers.
The list is compiled from complaints between 2011 and 2014.
Before this, in 2010, more than 1,000 Kenyan teachers were sacked for sexually abusing girls. Most of those cases occurred in rural primary schools.