South Africa MPs shocked at Zuma's Nkandla home upgrade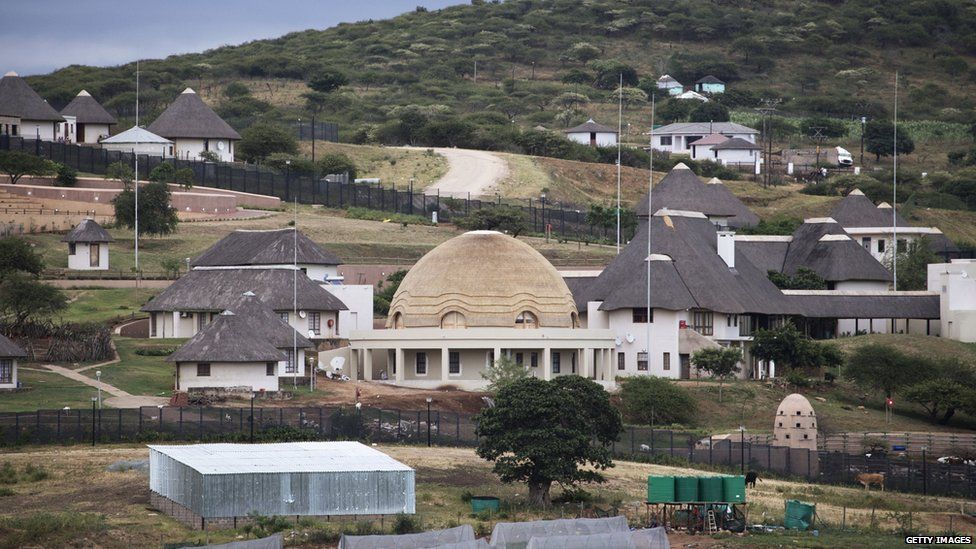 A South African parliamentary committee has found that work on President Jacob Zuma's private home was not worth the $23m (£15m) it cost taxpayers.
A visit to the residence in Nkandla also revealed that the upgrades showed signs of poor workmanship, according to the MPs.
The government said the refurbishment was for security reasons.
But a 2014 corruption investigation said the president "benefited unduly" from state money.
In a more than 400-page report, public protector Thuli Madonsela accused Mr Zuma of unethical conduct.
Her report found that a pool, chicken run, cow enclosure and amphitheatre had also been included in the controversial upgrades, and she recommended that the president repay some of the money.
Spending on presidents' private homes
PW Botha: $16,100
FW de Klerk: $22,000
Nelson Mandela: $2.9m on two residences
Thabo Mbeki: $1.1m
Jacob Zuma: $23m on rural Nkandla residence
All figures in 2013 financial terms
Source: Public protector report
But Police Minister Nkosinathi Nhleko who released a separate report on 28 May cleared Mr Zuma of any wrongdoing saying all work done on the property was necessary for his protection.
According to Mr Nhleko's calculations, the barracks and clinic outside the president's property cost $10.8m to build.
But MPs from both the governing ANC and opposition parties, who are looking at what steps should be taken following their visit, now agree that the prices were grossly inflated.
"We were also shocked with the workmanship of the clinic... At the moment, I would say that facility requires a lot of work because it is clearly visible that money has been wasted," said chairman of the committee MP Cedric Frolick.
They do not however, agree on who should be held accountable for the wasteful expenditure - Mr Zuma's supporters insist it should not be him.
Opposition parties, including the Economic Freedom Fighters led by Mr Zuma's former ally, Julius Malema, have been calling for the president to pay back some of the money spent on non-security features.
The MPs have been talking about their initial findings but are expected to report back to parliament.
The president has refused to do this as he argues that he did not ask for the upgrades, says the BBC's Pumza Fihlani in Johannesburg.
This response has raised the ire of many South Africans, our correspondent says.
Related Internet Links
The BBC is not responsible for the content of external sites.