Cameroon's Maroua market hit by suicide blasts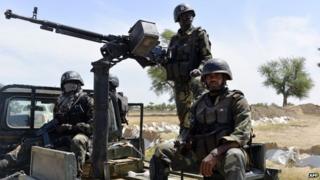 Two suicide bombers have detonated explosives in Cameroon's northern city Maroua, killing at least 13 people.
A local source told AFP news agency the bombers were two young girls who had disguised themselves as beggars.
One of the bombers detonated the explosives at the city's central market, in what is the second such attack in the past week.
The authorities have now extended a ban on wearing burkas to include the commercial capital Douala.
Previously the ban had only been in place in the country's Far North region, after two suicide bomb attacks there earlier this month.
Wednesday's attack happened near to the border with Nigeria's Borno state, where the militant Islamist group Boko Haram is most active.
The Cameroonian army uses the town of Maroua as the headquarters for its operations against the group, as part of a multinational force battling the militants in neighbouring parts of Nigeria.
President Paul Biya has described the attacks as "cowardly and ignoble".
The militants have increasingly been using female suicide bombers as they are often able to smuggle bombs into public places without detection.
No group has said it was behind the attack.