Ethiopia jails Muslims convicted of terror plot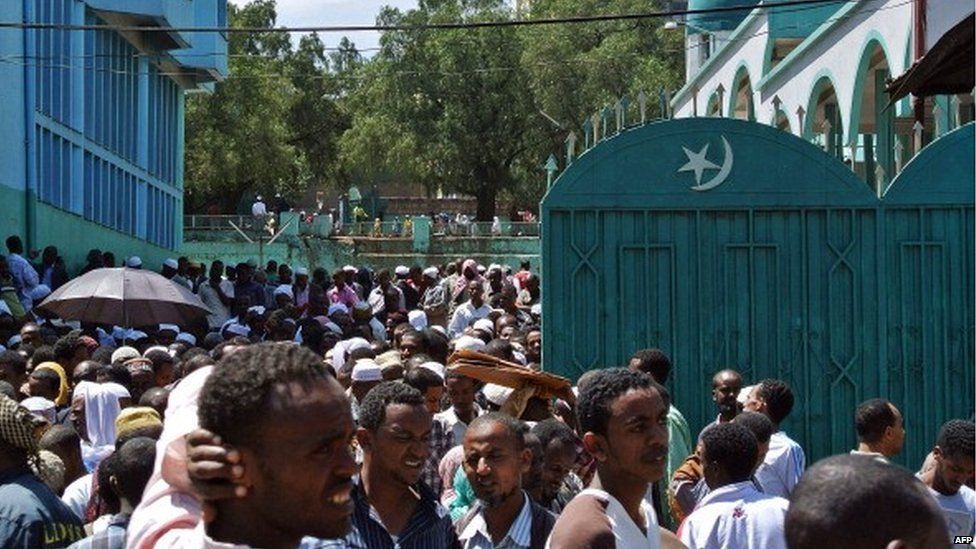 A court in Ethiopia has sentenced 18 Muslims, including clerics and a journalist, to up to 22 years in prison under controversial anti-terrorism legislation.
The 18 were convicted last month on charges including terrorism and conspiracy to create an Islamic state.
They were arrested three years ago over protests against alleged government interference in religious affairs.
Ethiopia's government has often been accused of stifling dissent.
It denies the allegation.
Some rights groups criticised US President Barack Obama for visiting the country last month, warning that it could lend credibility to a government accused of jailing journalists and critics.
Mr Obama called on the government to improve it record on human rights, while praising it as an "outstanding partner" in the fight against militant Islamists in neighbouring Somalia.
The other 14 received sentences ranging from seven years to 18 years, it reports.
The state-run EBC television station said their sentences would run from when they were first detained.
The group denied the charges and said they had been mistreated during their detention.
A section of Ethiopia's Muslim community staged protests in 2011 and 2012 over several issues, including allegations that the government was interfering in the choice of the main religious body, the Islamic Supreme Council.
The government denied the allegation.
Ethiopia is a mainly Coptic Christian country, with a minority Muslim population.
Ethiopia's ruling EPRDF coalition, led by Prime Minister Hailemariam Desalegn, won all parliamentary seats in elections in May.
The opposition said the poll was rigged.