South Sudan troops break ceasefire - Riek Machar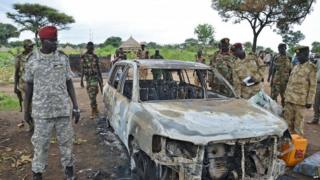 South Sudan's rebel leader has accused the government of violating a ceasefire hours after it came into effect.
Riek Machar said the army attacked his forces in two northern states, allegations which the military denies.
President Salva Kiir, under the threat of sanctions from the UN, signed a peace agreement on Wednesday, despite "serious reservations".
Several ceasefires to end the brutal 20-month conflict in the world's youngest nation have failed to hold.
The ceasefire came into effect at midnight local time on Saturday (21:00 GMT).
Mr Machar said his troops remained committed to the ceasefire despite the reported attacks in northern Unity and Upper Nile states, but would act in self-defence if the offensive continues.
"The government is unable to control its own troops," Mr Machar told reporters in Ethiopia.
He also accused the government of launching a "belligerent convoy", including gunships, on the River Nile from the capital Juba.
The convoy had been bombarding villages as it headed through rebel-held territory on its way north, he said.
Army spokesman Col Philip Aguer denied that there were any government troops operating in the areas where the alleged attacks took place.
"These are mere fabrications by the rebels. We don't have any report of clashes," he is quoted by AFP news agency as saying.
The government has also accused Mr Machar of failing to properly order his troops to stop fighting.
Tens of thousands of people have died and more than two million have been displaced from their homes since the conflict started in December 2013.
In a unanimous statement last week, the UN Security Council called on both parties "to adhere to the permanent ceasefire immediately", or face an arms embargo and other sanctions.
Under the agreement, the rebels will be given the post of first vice-president, a position Mr Machar held until 2013 when he was dismissed by President Kiir.
South Sudan gained independence from Sudan in 2011.
Fighting broke out in December 2013 after President Kiir accused his sacked deputy Mr Machar of plotting a coup.
Mr Machar denied the charges, but then mobilised a rebel force to fight the government.
---
Key points of the peace deal:
Fighting to stop immediately. Soldiers to be confined to barracks in 30 days, foreign forces to leave within 45 days, and child soldiers and prisoners of war freed
All military forces to leave the capital, Juba, to be replaced by unspecified "guard forces" and Joint Integrated Police
Rebels get post of "first vice-president"
Transitional government of national unity to take office in 90 days and govern for 30 months
Elections to be held 60 days before end of transitional government's mandate
Commission for Truth, Reconciliation and Healing to investigate human rights violations
Five obstacles to lasting peace
Will peace deal be worth the wait?
---