Burkina Faso coup guards RSP 'refuse to disarm'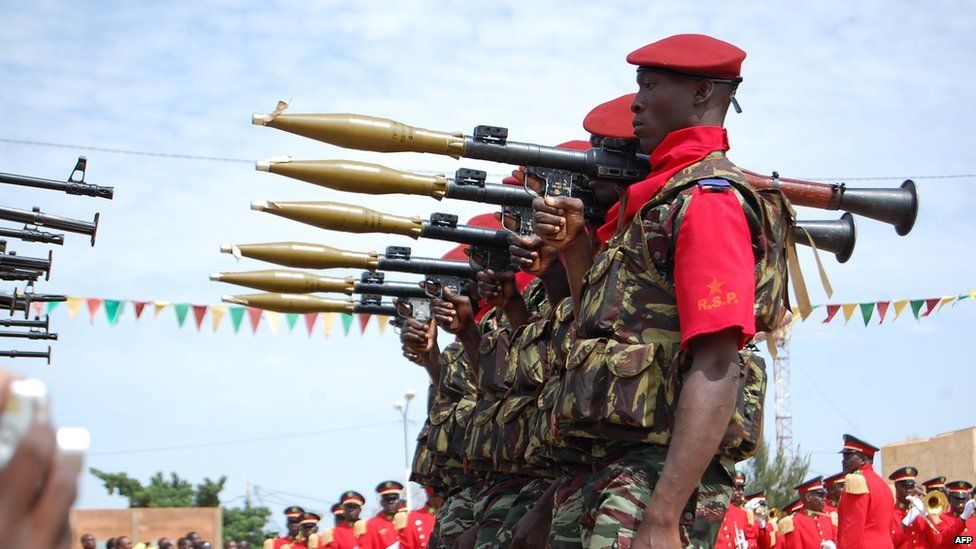 A unit of guards that carried out a coup in Burkina Faso before handing back power is refusing to disarm.
The chief of army staff accused presidential guards of intimidating people carrying out the disarmament.
Interim President Michel Kafando was formally reinstated on Wednesday after an intervention from the army and several West African leaders.
On Friday, his government ordered the presidential guards' unit that carried out the coup to be disbanded.
The presidential guards - known as the RSP - are a unit of 1,200 well-armed and well-trained men loyal to Blaise Compaore, the country's long-time ruler who was ousted in a popular uprising which set alight the parliament building last year.
Members of the RSP stormed the cabinet room on 16 September taking prisoner the interim president, the prime minister and others.
Coup leader Gen Gilbert Diendere said he seized power because of plans to disband the RSP and exclude Mr Compaore allies from standing in upcoming presidential elections.
At least 10 people were killed and more than 100 injured in clashes during the take over.
A week later, when it became clear they did not enjoy popular support and after a threat from the regular army to step down or be ousted by force, the RSP withdrew.
Gen Diendere admitted the putsch had been "the biggest mistake". "We knew the people were not in favour of it," he said.
Subsequently Gen Gilbert Diendere's assets were frozen.
A source in the RSP told AFP news agency that the disarmament process was deadlocked because a pledge to ensure the safety of the people who carried out the coup was not being respected.
Burkina Faso's seven day coup