Rwanda court backs scrapping presidential term limits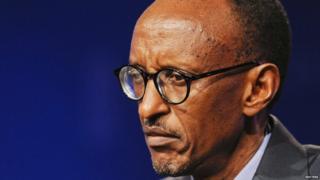 Rwanda's highest court has ruled in favour of changing the constitution to allow President Paul Kagame to stand for a third seven-year term in 2017.
It would be undemocratic to deny people the right to "choose how they are governed", the court said.
Rwanda plans to hold a referendum to see whether the public supports a constitutional amendment to lift the current two-term limit on presidents.
Third-term presidential campaigns have caused unrest in other African states.
In neighbouring Burundi, at least 70 people were killed after President Pierre Nkurunziza announced in April that he was running for a third term.
Mr Kagame criticised Mr Nkurunziza's decision to seek re-election, but has said Rwandans will decide his future.
Rwanda's parliament has approved changing the constitution after more than 3.7 million people had signed a petition asking for the two-term limit to be scrapped, according to officials.
The small opposition Democratic Green Party, which brought the court case, said it would launch a nationwide campaign to urge voters to reject the constitutional amendment.
The party said it would also consider launching legal action in regional and pan-African courts to block changes to the constitution.
Mr Kagame's Rwanda Patriotic Front has been in power in Rwanda since the end of the genocide in 1994.
He has been a staunch ally of the UK and US, who are among Rwanda's major donors.
His supporters say he has helped achieved stability and economic growth. His critics say he has presided over a repressive regime which stifles dissent.