Spain dismisses Rwanda war crimes case against 40 officials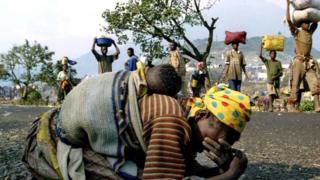 Spain's supreme court has dismissed a case against 40 Rwandan officials accused of revenge killings following the 1994 genocide.
The ruling revokes arrest warrants against the group, but 29 could still be prosecuted if they enter Spanish territory.
Last year Spain curbed its universal jurisdiction laws, which enable it to pursue human rights cases globally.
Rwanda's justice minister said the case had lacked evidence.
"We have always said that such a case requires proper and credible investigation," Johnston Busingye said.
"This particular investigation started by listing almost the entire leadership of the Rwanda Defence Forces on a charge sheet and then worked backwards to find offences with which to charge them."
But Jordi Palou, who represents Spanish, Rwandan and Congolese victims, called it "a very sad day for victims and for justice in general", Digital Journal reported.
He denied lack of evidence was behind the dismissal but would not say whether he would appeal.
Atrocities
The case was launched in 2008, when a Spanish judge issued international arrests warrants against Rwandan officials, accusing them of crimes against humanity, genocide and terrorism.
During a 100-day period in 1994, an estimated 800,000 Rwandans were killed, mainly ethnic Tutsis at the hands of radical Hutus.
It was brought to a halt by a rebel army led by Paul Kagame, who is now president. But the judge alleged his army later carried out atrocities against civilians in Rwanda and neighbouring Congo. Nine Spaniards were also killed.
Among those indicted was Jacques Nziza, who analysts say is the country's second most powerful person, behind President Kagame.
Another of the accused - General Karenzi Karake - was arrested in London this year on a warrant issued by Spain but a bid to have him extradited was dismissed.
Spain has been a prominent advocate of the principle of universal jurisdiction, which argues some crimes are so serious they transcend national sovereignty.
Courts in Spain have brought cases against the US over torture allegations at Guantanamo Bay, against China for alleged human rights violations in Tibet, and forced the arrest of former Chilean dictator Augusto Pinochet in London.
But after a number of diplomatic rows Spain's governing People's Party reformed the laws.