Angolan hunger-strike rapper Luaty Beirao 'deteriorating'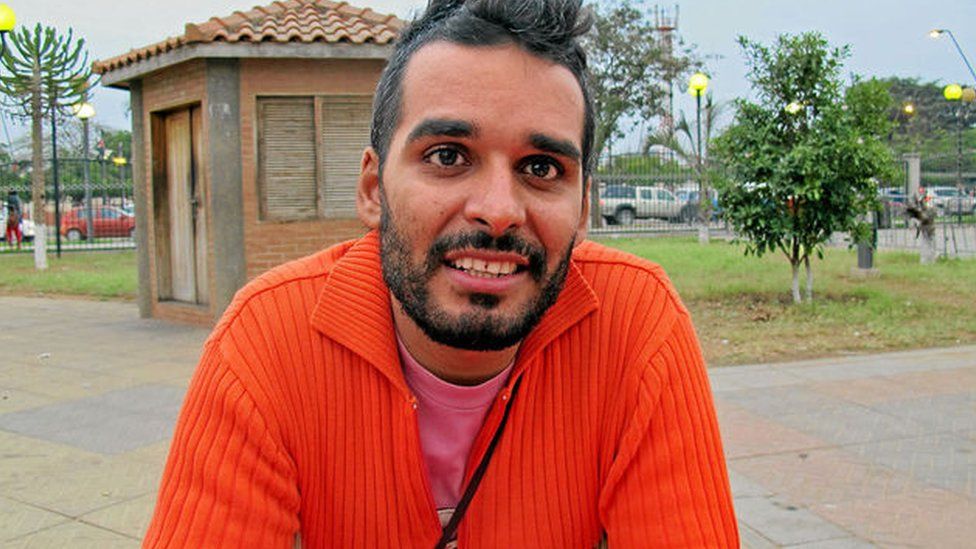 The condition of popular Angolan rapper and activist Luaty Beirao, who has been on hunger strike for 23 days, is deteriorating, his wife says.
Mr Beirao was arrested with 14 others in June for allegedly plotting to oust long-time President Eduardo dos Santos.
"I'm very worried about his health and what will happen to him next," his wife Monica Almeida told the BBC.
About 20 people were arrested on Monday in the capital, Luanda, during a vigil calling for the activists' release.
Police surrounded the group as they gathered in a church, holding candles and posters demanding the release of the detainees, who have been held without trial for more than three months now - the maximum allowed under Angolan law, the AFP news agency reports.
The rapper, also known by his stage name Ikonoklasta, has been an outspoken critic of the government, calling for a fairer distribution of the country's oil wealth.
His wife said his lawyers were going to file a petition to Angola's attorney general to demand his unconditional release.
"What we want is justice; the law should be respected - they shouldn't be held for more than 90 days without trial," she said.
Her husband had been stable when she visited him on Monday morning as he had taken some water but his condition had worsened since then, Mrs Almeida said.
"A team of lawyers and doctors who visited him on Tuesday said he didn't slept well."
The detained activists, who belong to a youth movement, had previously held demonstrations demanding that President dos Santos - who has been in power for 36 years - step down.
They face up to 12 years in jail if convicted.
The June arrests triggered international protests, but were justified by Angola's deputy state prosecutor who accused them of planning an uprising by students and workers "with incalculable consequences".
Last week, Amnesty International came out in support of an EU parliament resolution seeking the release of jailed political prisoners and human rights defenders in Angola.
Since the end of the conflict in 2002, Africa's second-largest oil producer has witnessed an economic boom, but critics of the elected government say the wealth has only benefited a small elite.
Related Internet Links
The BBC is not responsible for the content of external sites.