Mali hotel attack in Bamako: Two held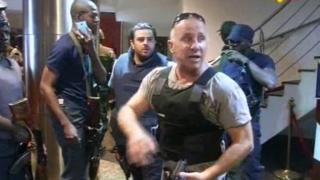 Malian special forces have arrested two suspects in connection with the siege at a hotel in the capital Bamako that left 22 people dead, officials say.
The suspects' identity and alleged role in Friday's attack at the Radisson Blu hotel was not immediately known.
Armed men held 170 guests and staff hostage during the nine-hour siege, killing 22 and wounding 14 before police stormed the building.
An al-Qaeda affiliate claimed the attack in which two militants died.
Malian Security Minister Salif Traore said on Thursday that there were two attackers armed with AK-47 assault rifles.
"They opened fire from the entrance of the hotel, in the lobby, the restaurant, various corridors. They fired on people indiscriminately," he said.
The al-Murabitoun group, an al-Qaeda offshoot led by one-eyed Algerian jihadist Mokhtar Belmokhtar, said it was responsible for the attack.
Another jihadist group from central Mali, the Macina Liberation Front (LWF), also claimed responsibility, saying there were five attackers and three had escaped.
Neither claim has been verified.