Senegal President Macky Sall seeks shorter terms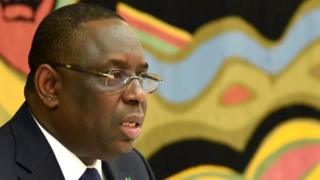 Senegal's President Macky Sall has proposed to cut his own term in office by two years.
Changing the president's mandate from seven to five years is part of several proposals for constitutional reforms which are to be put to a referendum.
The president's office say they are aiming to strengthen democracy.
Several African presidents have recently done the opposite - changing constitutions to extend their time in power.
The new constitution would not allow a president to run for more than two consecutive terms in office.
The BBC's Nadege Sinarinzi in Dakar says after reducing his term in office, Mr Sall is then expected to put himself forward for re-election in 2017 instead of 2019.
Other suggested amendments to the constitution include an upper age limit of 75 years.
The date of the referendum is yet to be announced.
Mr Sall, 54, was elected in 2012, defeating the incumbent Abdoulaye Wade, who had controversially sought a third term in office.
---
Term limit debate flares across Africa:
Rwanda held a referendum in December which voted overwhelmingly for the country's current leader, Paul Kagame, to seek a third term and potentially stay in power until 2034.
In October, a similar referendum has already made it legal for Denis Sassou Nguesso, in Congo-Brazzaville, to run again in 2016. He has been in power for 31 years. Protests against the constitution change were brutally repressed.
Uganda's Yoweri Museveni, who has been in power for nearly 30 years, is seeking re-election next month. Term limits were scrapped in 2005.
Burundi has been engulfed in months of protests since President Pierre Nkurunziza announced last April he would run for a third term. Hundreds have died, there has been an attempted coup and a rebel movement has formed.
Elections are due in DR Congo this year but they may be postponed, enabling President Joseph Kabila to remain in office.
DR Congo president unlikely to give up power
---