Burundi crisis: Amnesty claims evidence of 'mass graves'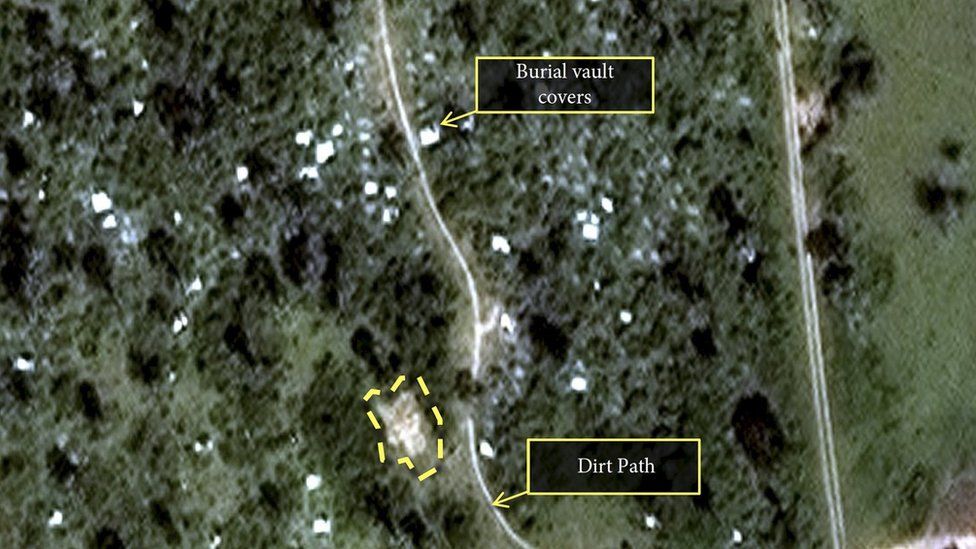 Rights group Amnesty says it has found five possible mass graves near Burundi's capital, where security forces are accused of killing scores of people in December.
Meanwhile, authorities have released two foreign journalists arrested on Thursday in the capital Bujumbura.
Violence in the country began last April, when President Pierre Nkurunziza announced he would seek a third term.
At least 439 people have died and 240,000 have fled abroad, the UN says.
African Union (AU) leaders are due to discuss the crisis in Burundi at a summit in Ethiopia.
They want Mr Nkurunziza to accept peacekeeping troops to prevent Burundi sliding into ethnic conflict, but analysts say he is unlikely to agree.
Amnesty says satellite images show disturbed earth at sites in the Buringa area on the edge of the capital Bujumbura that are consistent with witness reports.
"These images suggest a deliberate effort by the authorities to cover up the extent of the killings by their security forces and to prevent the full truth from coming out," said Muthoni Wanyeki, Amnesty's regional director for East Africa, the Horn and the Great Lakes.
At least 87 people were killed in December's crackdown, which came after military bases were attacked by gunmen, but the UN said the true number may be much higher.
The UN said it was also analysing satellite images to investigate reports of at least nine mass graves, including one in a military camp said to contain more than 100 bodies.
French journalist Jean-Philippe Remy, Africa bureau chief for French daily Le Monde, and British photojournalist Phil Moore were released earlier, and have had their media accreditation revoked.
The two were detained, along with 15 Burundians, in a raid by police in the capital Bujumbura on Thursday.
"The two foreigners were arrested in the company of armed criminals," the security ministry said in a statement, adding that a mortar, a Kalashnikov rifle and pistols were also seized.
The Foreign Correspondents' Association of East Africa said the news was "a big relief of course, but the incident bodes ill for our work in Burundi".
The two journalists have covered the region for many years and have won awards for their work.
Timeline - Burundi crisis
April 2015 - Protests erupt after President Pierre Nkurunziza announces he will seek a third term in office.
May 2015 - Constitutional court rules in favour of Mr Nkurunziza, amid reports of judges being intimidated. Tens of thousands flee violence amid protests.
May 2015 - Army officers launch a coup attempt, which fails.
July 2015 - Elections are held, with Mr Nkurunziza re-elected. The polls are disputed, with opposition leader Agathon Rwasa describing them as "a joke".
November 2015 - Burundi government gives those opposing President Nkurunziza's third term five days to surrender their weapons ahead of a promised crackdown.
November 2015 - UN warns it is less equipped to deal with violence in Burundi than it was for the Rwandan genocide.
December 2015 - 87 people killed on one day as soldiers respond to an attack on military sites in Bujumbura