Burundi crisis: Grenade blasts rock capital Bujumbura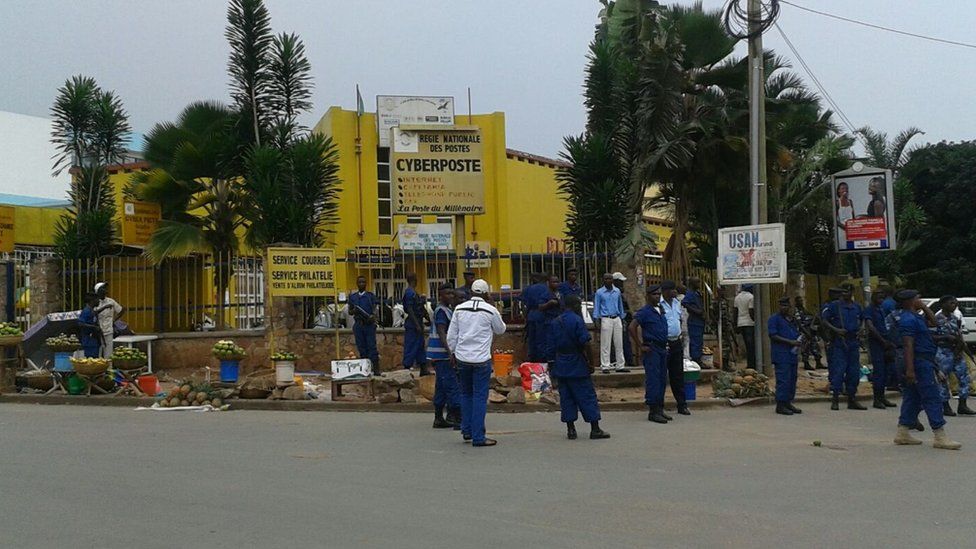 Three grenade explosions have rocked the capital of the troubled central African nation of Burundi.
The blasts occurred in Bujumbura's central business district, and reports suggest at least four people were injured.
Burundi has been in crisis since April 2015 when President Pierre Nkurunziza ran for a controversial third term.
This led to ongoing violence and fears that Burundi is sliding into ethnic conflict.
The BBC's Prime Ndikumagenge, in the capital, says the latest attacks are unusual because they occurred in daylight, and in the centre of the city, whereas most violence happens at night.
Two grenades were hurled around midday, near the central post office and a building hosting a mobile phone operator, injuring four people.
The third grenade was detonated at a bus station south of the capital, behind what used to be the central market, our correspondent says.
At least 439 people have died and 240,000 have fled abroad since last April, the UN says.
Burundi's deepening crisis
April 2015: Protests erupt after President Pierre Nkurunziza announces he will seek a third term in office.
May 2015: Constitutional court rules in favour of Mr Nkurunziza, amid reports of judges being intimidated. Tens of thousands flee violence amid protests.
May 2015: Army officers launch a coup attempt, which fails.
July 2015: Elections are held, with Mr Nkurunziza re-elected. The polls are disputed, with opposition leader Agathon Rwasa describing them as "a joke"
November 2015: Burundi government gives those opposing President Nkurunziza's third term five days to surrender their weapons ahead of a promised crackdown.
November 2015: UN warns it is less equipped to deal with violence in Burundi than it was for the Rwandan genocide.
December 2015: 87 people killed on one day as soldiers respond to an attack on military sites in Bujumbura.
January 2016: Amnesty International publishes satellite images it says are believed to be mass graves close to where December's killings took place