Burundi crisis: Allegations against Rwanda 'unfounded'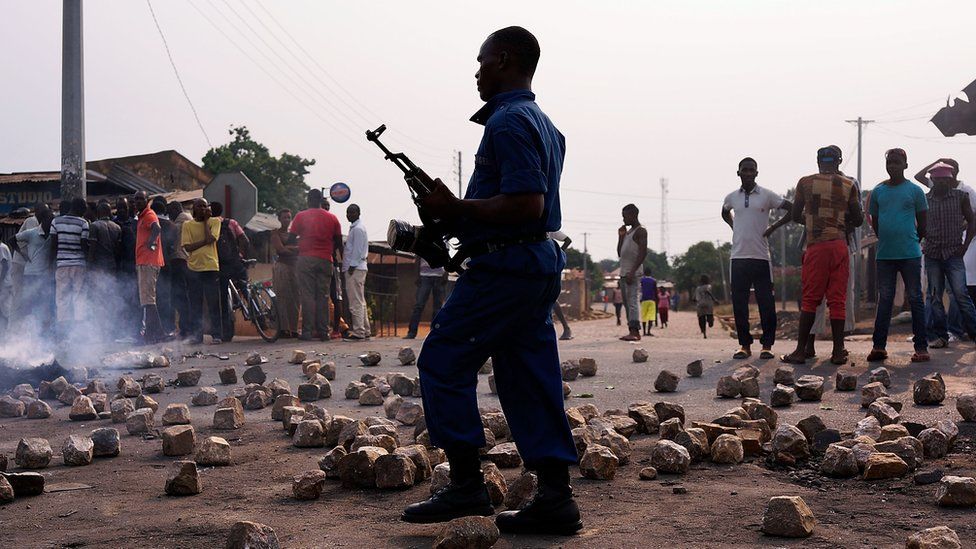 Rwanda has dismissed allegations in a leaked UN report that it is training Burundian refugees who want to overthrow President Pierre Nkurunziza.
Similar allegations have been made by Burundi's government.
A political crisis in the country, sparked by President Nkurunziza's decision to run for a third term last April, has led thousands to flee.
"The unfounded allegations come from the fact that Rwanda has been hosting refugees considered hostile to [the government in Burundi's capital] Bujumbura," Rwanda's Foreign Minister Louise Mushikiwabo said in a statement emailed to the BBC.
The UN experts behind the report gathered the evidence in the east of the Democratic Republic of Congo, where they are monitoring UN sanctions.
The Burundian fighters told them that they had been recruited in May and June last year and given two months of military training by the Rwandans, and then given fake identity cards to cross into DR Congo, Reuters reports.
They also said there were four companies, each made up of 100 Burundian rebels, still in Rwanda.
In dismissing this evidence, Ms Mushikiwabo said the crisis in Burundi was of the country's "own making" and people should focus on that rather than "look for scapegoats".
On Wednesday, Burundi's ruling CNDD-FDD party accused Rwanda's President Paul Kagame of plotting to overthrow Mr Nkurunziza.
The BBC's Prime Ndikumagenge in Bujumbura reports that Burundi's Foreign Minister Alain Nyamwite told journalists that the leaked UN report provided further evidence of what the government had been saying.
Last July, Burundi's government said that Rwanda had allowed rebels to cross into the north-west of the country.
Burundi's deepening crisis:
April 2015: Protests erupt after President Pierre Nkurunziza announces he will seek a third term in office.
May 2015: Constitutional court rules in favour of Mr Nkurunziza, amid reports of judges being intimidated. Tens of thousands flee violence amid protests.
May 2015: Army officers launch a coup attempt, which fails.
July 2015: Elections are held, with Mr Nkurunziza re-elected. The polls are disputed, with opposition leader Agathon Rwasa describing them as "a joke"
November 2015: Burundi government gives those opposing President Nkurunziza's third term five days to surrender their weapons ahead of a promised crackdown.
November 2015: UN warns it is less equipped to deal with violence in Burundi than it was for the Rwandan genocide.
December 2015: 87 people killed on one day as soldiers respond to an attack on military sites in Bujumbura.
January 2016: Amnesty International publishes satellite images it says are believed to be mass graves close to where December's killings took place