New Libya cabinet proposed to replace dual governments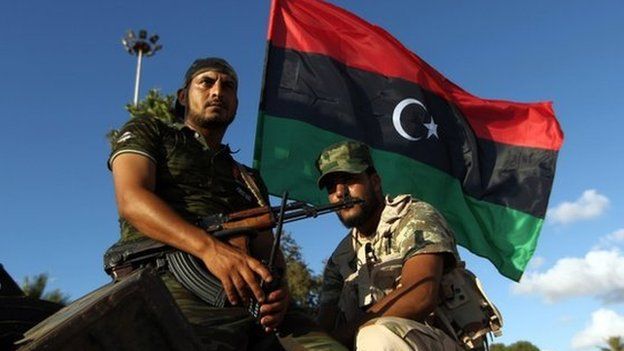 Libya's internationally-backed presidency council has proposed a new cabinet for the country which has had two competing governments since 2014.
The proposed council will be put to a vote in parliament this week.
The BBC's Rana Jawad says Western powers hope that this will be Libya's future unity government.
The existence of two competing governments and the lack of stability has allowed militants and so-called Islamic State to operate.
Our correspondent says one member of the presidency council, which includes Libya's future prime minister, urged the parliament to endorse the new line-up, saying it would provide the framework to fight terrorism.
But divisions have emerged within the presidency council, and two of the nine-member council have not signed up to the latest proposal.
In addition, two of the 18 nominated ministers have declined the offer.
The presidency council's first proposal in January was rejected for being too big and was marred by divisions over who would occupy senior security posts.
Libya's presidency council was formed with the signing of a UN-brokered political agreement in December.
Its members are still working outside of Libya because rival factions in the capital, Tripoli, and their militia backers, are still opposed to the political agreement.
Analysis: Rana Jawad, BBC North Africa correspondent
Even if the parliament endorses the new cabinet, questions over the security arrangements for it, and when it can move to the capital, remain largely unanswered.
Western diplomats and ministers are eager to see a unity government in place so they can seriously weigh their military options in helping to fight the expansion of the so-called Islamic state in the country.
There have been increased public calls, from Washington to Paris, on the need for the military to address what they see as a growing and dangerous threat on Europe's southern shores.
Some have even suggested that they may not wait till a new government is in place.
However, regional players like Egypt and Libya's other neighbours, including Algeria and Tunisia, have voiced concerns over any unilateral, Western military action.
They worry it will further destabilise the region.