Burundi's Nkuruniza tells UN chief he will free prisoners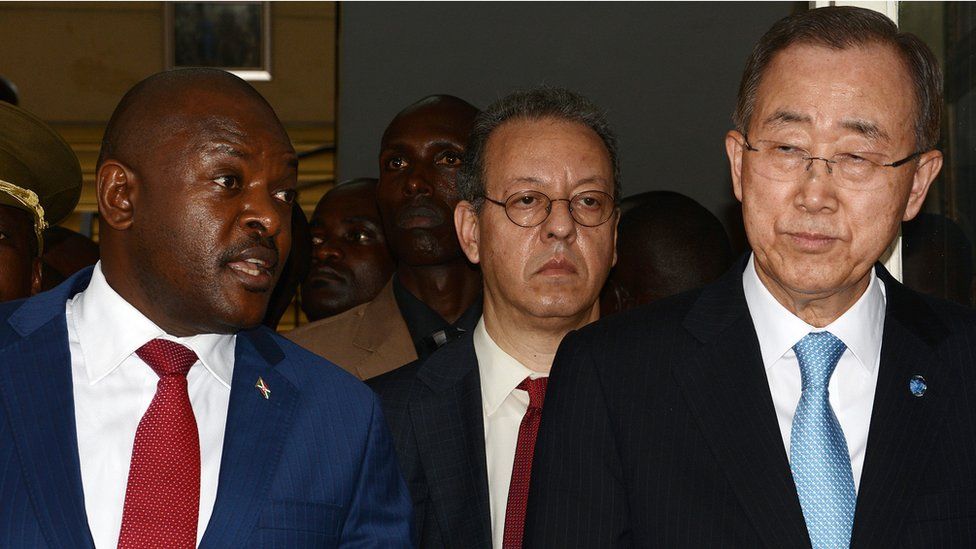 Burundi's President Pierre Nkurunziza has said he will release 2,000 prisoners detained since protests broke out against his rule in April.
He made the announcement following talks with UN chief Ban Ki-moon in Burundi's capital, Bujumbura.
About 400 people have been killed and 250,000 have fled to neighbouring states since Mr Nkurunziza announced in April that he would seek a third term.
He survived a coup attempt in May, and won elections in July.
Mr Ban's visit was the latest in a series of diplomatic initiatives aimed at ending the unrest.
On Thursday, South Africa's President Jacob Zuma and four other African leaders are due to visit Burundi, AFP news agency reports.
Mr Ban said Mr Nkurunziza's promise to release the prisoners was "an encouraging step".
Mr Nkurunziza had also given him an assurance that he would hold "inclusive dialogue" with the opposition, Mr Ban said.
"Burundi's political leaders must be ready to summon the courage and the confidence that will make a credible political process possible," the UN chief added.
Burundi's deepening crisis
April 2015: Protests erupt after President Pierre Nkurunziza announces he will seek a third term in office.
May 2015: Constitutional court rules in favour of Mr Nkurunziza, amid reports of judges being intimidated. Tens of thousands flee violence amid protests.
May 2015: Army officers launch a coup attempt, which fails.
July 2015: Elections are held, with Mr Nkurunziza re-elected. The polls are disputed, with opposition leader Agathon Rwasa describing them as "a joke"
November 2015: Burundi government gives those opposing President Nkurunziza's third term five days to surrender their weapons ahead of a promised crackdown.
November 2015: UN warns it is less equipped to deal with violence in Burundi than it was for the Rwandan genocide.
December 2015: 87 people killed on one day as soldiers respond to an attack on military sites in Bujumbura.
January 2016: Amnesty International publishes satellite images it says are believed to be mass graves close to where December's killings took place